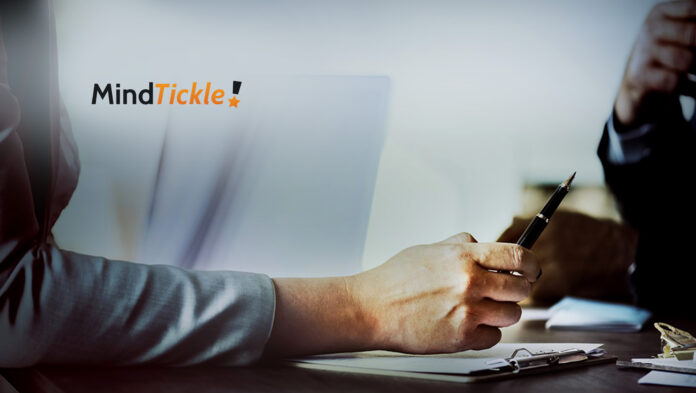 What Are the Core Concepts of Sales Enablement?
If you wish to get good sales, you must push yourself beyond your limitations. This can be done by using new tools, processes, and strategies, along with testing what works and what doesn't. Also, developing a long-term relationship with new customers is important. Many salespeople won't do it themselves, need help from higher authorities. For any organization to function properly, the sales team must consistently push and improve themselves, and sales enablement is all about the same.
Sales enablement is the process of aiding salespeople to sell better using tools, strategies, knowledge, and resources. The process of sales enablement is quite simple at its core. However, it consists of many more aspects. Every organization does sales enablement at some level. If you help your salespeople in improving customer relationship or closing a deal, it is sales enablement.
However, any successful sales enablement program includes some key components which are as follows:
Every organization must offer as much support and resources as required to help the salespeople in selling more effectively.
The enablement process and resources provided to salespeople must focus on engaging, attracting, and satisfying the target buyers.
The type of information and resources given to salespeople can be divided into two-one that is provided to customers for helping them make a buying decision and another that is provided exclusively to salespeople to help them better-selling prospects.
Salespeople must have sufficient training about how to use the resources provided to them apart from the general sales skills training. This can be a great sales enablement resource.
The resources offered to the salespeople should be used by most of the salespeople in the organization. Thus, it is important that resources must be easy to use, easy to find, and implement.
The organizations must track the usage of their sales enablement program's assets and make sure their maximum usage for good results.
The organizations must consistently track the metrics like average sales cycle length, number of representatives achieving their quota, average deal size, etc. along with the number of representatives using the sales enablement process.
Apart from aspects mentioned above, customer centricity is most important. The main aim of sales enablement must be to benefit your prospective buyers and customers.
Importance of Sales Enablement
A major benefit of sales enablement is that it helps salespeople in building relationships and closing more deals. It offers a repeatable process to even the weaker salespeople which they can follow for good results. When you have an effective sales enablement program, you no longer need to depend on big hitter sales professionals.
Sales enablement offers tools for nurturing qualified leads and beginning meaningful conversations. It equips the salespeople with valuable data which can be used for pitching and convincing potential customers. It helps in increasing conversions by empowering salespeople with better ways to sell.
Sales Enablement Process
You must know that Sales enablement should work for both salespeople and customers buying. Thus, while talking about the enablement process, we need to discuss both sides.
Sales Enablement for Customers
If you wish to help the customers make the right buying decision, the sales enablement should:
-Align the sales representative's process with the buyer's journey.
-Provide feedback on prospects and customers.
-Customize tools, messaging, and marketing your target customers
Sales Enablement for Salespeople
The process begins with recruiting and on-boarding. Before you start the training and coaching process, you must hire the right people for the job and bring them into your organization.
Once it is done, you can move towards the second part of coaching and training. Ongoing training and coaching assists salespeople to become competent and confident. They get an opportunity to sharpen their skills and expand their knowledge base.
The third part comes with choosing top sales enablement tools and technology to empower your salespeople. Your sales personnel need access to quality tools for filling and monitoring their pipeline, nurturing leads and understanding the market along with winning the trust of customers and closing deals.
The fourth part of the process is performance analysis. For any improvement, you need to measure. Regular assessments are essentials for analyzing their performance by tracking and analyzing key performance indicators along with asking salespeople for their insight and requesting feedback.
Sales Enablement Strategy
The essential steps of creating an effective sales enablement strategy are:
Assessing your sales operational strengths and weaknesses for defining key enablement objectives.
Talking to people closest to the problems your sales enablement program will solve to identify solutions and understand the buyer's journey.
Implementing sales enablement content, tools, and training for meeting the objectives.
Analyze and iterate sales enablement plan to continuously improve it.
Sales Enablement Content
Content is a crucial component of the sales enablement program. It helps the salespeople in understanding and selling products in a better way. The right content can help convincing more prospects into becoming buyers. Thus, it is important to find and create effective sales training material.
While many updated organizations might be focusing time and energy on creating content that attracts a prospective audience, they may ignore their sales department. Blogs and social media posts are great for generating leads, but they alone won't close the deal.
Apart from the skills of nurturing leads and prospects, the salespeople need content as well for actual sale. The types of sales enablement content you should create are:
–  Content for lead generation
– Content for sales conversions
– Content for internal sales support
Apart from that, it is important to choose right tools which offer the ability to create content quickly and make it easy for salespeople to find and deploy sales enablement content during sales calls, presentations, and via emails.
If you wish to aid your sales team and assist them in performing to the best of their abilities, connect with top sales enablement companies to benefit from the excellent tool, strategies, and platform.