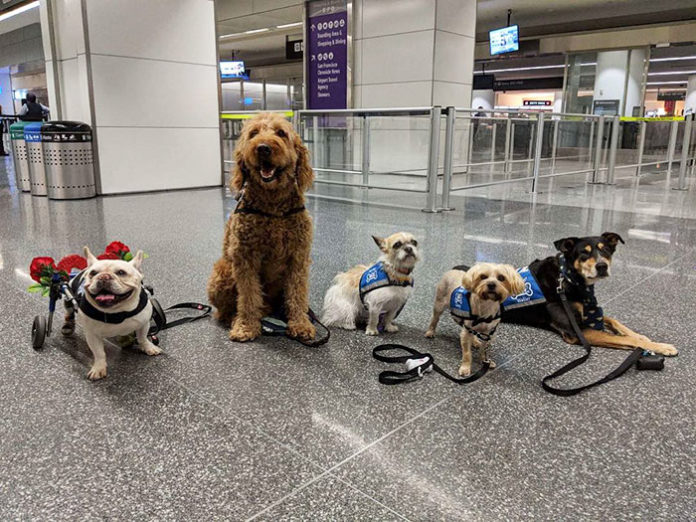 San Francisco is a city that has literally gone to the dogs! SF is packed with locations and activities that welcome four-legged guests, having been named the country's most dog-friendly city by Animal Planet in 2013 and SmartAsset in 2016. Take a stroll through San Francisco's streets and you'll quickly come across off-leash parks and beaches, doggie daycares, dog spas, dog bakeries, and dog-friendly hotels, restaurants, and offices. Indeed, there are more doggos here than children! Residents of San Francisco clearly adore their canine companions, but which breeds are most frequently observed in the City by the Bay?
The following list of top 10 dogs to own in San Francisco is brought to you by the help of a locally owned dog walking company in San Francisco called 360 Dog Walker. If you are a local resident of San Francisco and need a dog walking company that not only walks your dog but also has the capability to train, board and clean your dog then 360 dog walker is the company to contact. The owner Nancy Bernard is a very nice lady who has over a decade of experience under her belt. She was trained by one of the best dog trainers in the United States. Her company 360 dog walker provide excellent service.
#1 Golden Retriever
Golden Retrievers are outgoing and friendly, making them excellent family pets. At the city's numerous off-leash beaches, this water-loving breed will have a barking good time! Ocean Beach, Fort Funston, Lands End Beach, and Esplanade Beach are all excellent locations for your pet to receive a dose of vitamin sea!
#2 Chihuahua
These petite pups with colossal personalities are pawfect for city dwellers! Their little size makes them ideal for use on San Francisco's famed cable cars and Muni buses. During off-peak hours, your Chihuahua is welcome on all Muni vehicles as long as it is leashed and muzzled or in a carrier. Take note that they, too, will be required to pay a fare!
#3 Goldendoodle
With its adorable appearance and amiable demeanour, it's unsurprising that the Goldendoodle has earned a spot among the top dog breeds in San Francisco! These friendly dogs, who are a cross between a Golden Retriever and a Poodle, come in three sizes and will make wonderful additions to any home, whether you live in an apartment or the suburbs.
#4 Mutt
Mixed breed dogs fit nicely in in a melting pot like San Francisco. Mutts, which come in a variety of forms and sizes, are just as fine pets as their purebred counterparts. Whether you want to visit Fisherman's Wharf, eat at Palomino's, or simply curl up with a nice book at home, your mutt will gladly accompany you!
#5 Terrier Mix
Terrier mixes are generally playful and enthusiastic, ensuring that there is never a dull time in your home! Fortunately, the city has many of off-leash sites for your hybrid pooch to burn off some energy. SF is also fairly walkable, which means that getting Fido's daily exercise should be a breeze!
#6 Pit Bull
The word "Pit Bull" does not refer to a specific breed; rather, it refers to Pit Bull-type canines, which include the American Pit Bull Terrier, American Staffordshire Terrier, and Pit Bull mixes. Frequently misunderstood, Pit Bulls make terrific family companions when given enough of TLC and would be an excellent addition to any home in the San Francisco suburbs.
#7 Siberian Husky
The Siberian Husky is a pack dog who would be delighted to join your family, even if you already have dogs! This breed, which is infamous for excessive shedding, is pawfect for San Francisco's cold, foggy climate. Simply plan on grooming your Husky regularly during the shedding season.
#8 Chihuahua Mix
Chihuahua mixes, whether Jack Chis, Chugs, Chorkies, or Cheagles… whatever the mix, Chihuahua mixes will undoubtedly win your heart! These pups are ideal for compact apartments, which are many in the heart of San Francisco. If you're fortunate enough to work in a dog-friendly environment, bring your Chi mix with you!
#9 Labrador Retriever
The Labrador Retriever is an easygoing and friendly breed that is America's most popular breed and a top dog breed in San Francisco! However, easygoing does not equate to slothful. Labs demand a lot of exercise, which they can get in one of San Francisco's several dog parks! Upper Douglass, St. Mary's, and Rincon Hill are all worth a visit!
#10 Lab Mix
What happens when the country's preferred breed is crossed with other breeds? Loyalty, love, and a whole lot of cuteness! Allow your Lab mix to accompany you to restaurants—San Francisco has over 170 dog-friendly establishments! One of these is Park Chalet, which features a sprawling dog-friendly grass in the backyard!
Why Does San Francisco Have More Dogs Than Children?
If you prefer Fido to children, relocating to the Bay Area may be the best option.
At least that is the implication made by a report from the travel newsletter Air Mail this week, which stated that San Francisco is home to more dogs than children.
San Francisco had a population of 883,305 people in 2018, according to US Census Bureau estimates. Around 4.5 percent of children were reported to be under the age of five, which equates to around 39,748.73 youngsters who were not yet old enough to attend kindergarten. Additionally, 13.4% were reported to be under the age of 18, or approximately 118,362.87 minors.
If Air Mail's allegation is correct, there would have to be more than 158,111 dogs in San Francisco to account for population changes.
According to the San Francisco Civil Grand Jury, no one knows for certain how many dogs live in the city, although it is possible that there are more furry pals than children.
"We have heard estimates of San Francisco's dog population ranging from 120,000 to 500,000. If we use the American Veterinary Medical Association's national averages, which indicate that 36.5 percent of households have an average of 1.6 dogs, this equates to 229,512 dogs in our households, plus an unknown number, say about 2,500 dogs in our homeless population, for a total of approximately 232,000 dogs."
– Civil Grand Jury of San Francisco
For those who reside in areas of the country where children are plentiful, the idea of a city being overrun by puppies may seem perplexing.
However, Air Mail attributed the discrepancy to San Francisco's burgeoning technology economy.
The city's dog-friendly start-ups, together with the widespread cultural acceptance of pups in public settings, have contributed to an environment where man's best friend is the preferred companion.
"The city's population is shifting toward younger and wealthier residents, and residents are living longer single lives, having fewer children, and acquiring dogs," the research noted.
Similarly, KQED News highlighted San Francisco's property market and high cost of living as reasons why dog ownership is preferred to parenthood. When comparing San Francisco's population to the rest of the United States, the newspaper suggests that the city has fewer children because it is simpler to start a family elsewhere, rather than because residents are dog nuts.