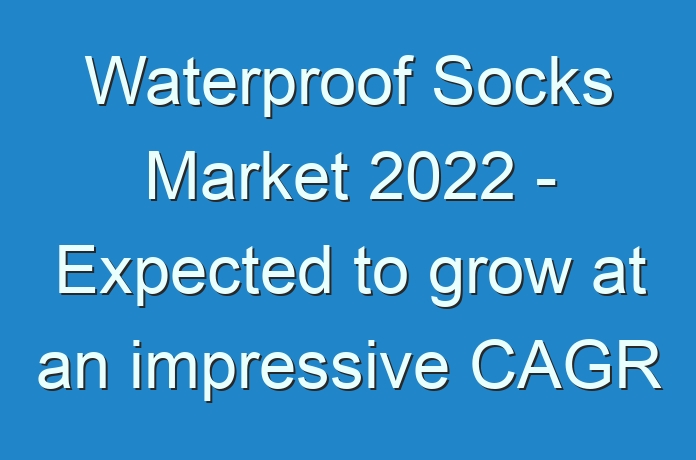 The waterproof socks market is expected to grow at an impressive CAGR (Compound Annual Growth Rate) between 2019 and 2027 owing to increase in activities like camping, river rafting and trekking. In fact, the sports and outdoor industry is itself going at a pace faster than global waterproof socks market. The user penetration in 2019 was 10.6% and by 2023 will be 17.3%.
Global Waterproof Socks Market: Notable Developments
While waterproof socks have always been in demand and that has been quite consistent, there has been seen an increase in recent years owing to growing popularity for water sports, trekking, hiking, snow sports, etc. So, it does not come as a surprise that players are actively trying to meet this growing demand. And, the competition is intense. Some of the developments in the market are outlined below. These are shaping the competitive landscape in a big way.
ArcticDry launched waterproof socks – ArcticDry Xtreme – with innovative new features. It has three layers to protect from water and is also breathable. Then, it introduced Waterfly which is again highly water resistant. Not only does the company seem to be at the vanguard of the innovation game but also it is actively working towards diversifying the product portfolio.
Are you a start-up willing to make it big in the business? Grab an exclusive PDF Brochure of this report
Global waterproof socks market is fragmented. Major players include:
DexShell
Sealskinz
Showers Pass
Rocky
Wigwam Corporation
Camaro GesmbH
Randy Sun
Seavenger
Global Waterproof Socks Market: Key Trends and Drivers
Global Waterproof Socks Market Landscape is witnessing demand from various corners of the business world. Demand is not just coming from sports enthusiasts but also people under medical care. Some of the factors are driving the global waterproof socks market are outlined below:
Known to be antibacterial, waterproof socks are seeing a rise in demand from the healthcare sector. These cater well to needs of patients suffering from infections and issue posed by bacteria and viruses. Especially, during outdoor activities, these become especially significant. Thus a good number of healthcare professionals prefer these for prevention of bacterial invasion.
Millennials are ardently seeking outdoorsy pleasures. And, the fact that they seek for an active and healthy lifestyle, via sports, etc. is further contributing to the growth of the global waterproof socks market. These act as a sort of a safety equipment for people who are out in the wild – trekking, camping, hiking – or for those who play snow sports, run in wilderness or in rainy regions, etc. Depending on the kind of activity that is pursued, variants of waterproof socks in demand change.
Looking for Regional Analysis or Competitive Landscape in Waterproof Socks Market, ask for a customized report
Global Waterproof Socks Market: Geographical Analysis
North America and Europe will account for a large chunk of market share over the forecast period, owing to a massive number of sports enthusiasts in the region. Besides, these regions are home to countries that spend heavily on events related to rafting, cycling, snow sports and so on.  Moreover, it is supported by the high levels of disposable incomes in the region.
Read Latest Press Release By TMR:
https://www.prnewswire.com/news-releases/continued-ravage-of-covid-19-extends-tremendous-opportunities-in-disinfectant-wipes-market-valuation-projected-to-exceed-us-16-7-bn-by-2030—tmr-301285688.html