Market players are combining vehicle-to-grid technology (V2G) with V2X communication and power conversion technology, to facilitate data exchanges between vehicles and their environments. This helps create an intelligent and interconnected transportation ecosystem between technology providers and vehicle owners.
Combining BEVs (Battery Electric Vehicles) with vehicle-to-grid technology is creating revenue opportunities for various stakeholders in the market. This technology helps consumers to be a part of smart grid solution systems, which empowers them with price arbitrage and enables them to control energy reserves. Thus, vehicle owners can provide ancillary services to large distribution network operators and earn revenue by providing operators with energy reserves.
Revenue opportunities in the vehicle-to-grid technology market are triggering BEV and PHEV (Plug-in Hybrid Electric Vehicle) manufacturers to provide consumers with additional services linked to their vehicles. Since software is an important component of V2G technology, vehicle owners can earn additional revenue from companies who wish to purchase crucial data generated from the intelligent and interconnected communication technology. This crucial data will help car manufacturers and technology providers offer better services to consumers. This interconnected network helps players in the vehicle-to-grid technology market in gaining important insights about consumers and other stakeholders in the value chain with much ease and in a cost-efficient manner. The vehicle-to-grid technology market is estimated to grow at an astounding CAGR of ~46%, to reach a revenue value of ~US$ 18 Bn by the year 2027.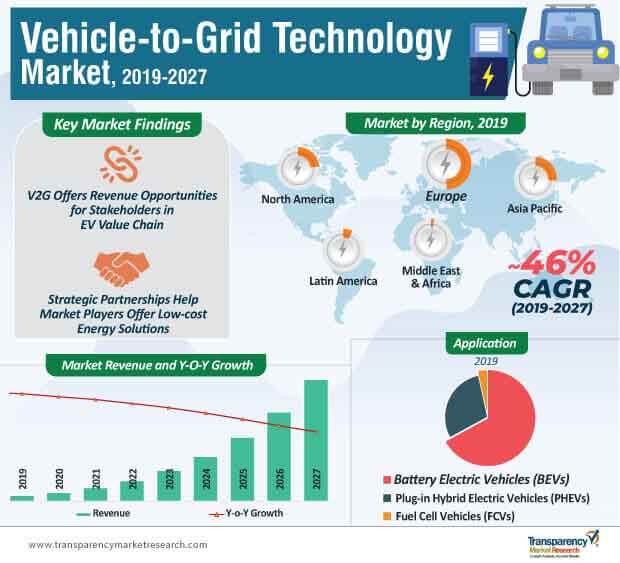 To understand how our report can bring difference to your business strategy, Ask for a brochure
Depending on the location proximity, vehicle, and charger, vehicle-to-grid technology helps translate savings for various stakeholders in the value chain. Market players are offering competitive prices to vehicle owners for energy reserves to avoid costly charges during high demand times.
Players in the vehicle-to-grid technology market are increasing offerings to fleets, schools, and homes. For example, school buses have large batteries and enough scope to charge the batteries during downtime at night as well as in the middle of the day. Also, vehicle owners can save on energy costs at home by self-consuming the electricity stored in their PHEVs, and avoid price uncertainties during peak demand hours. Consumers can also build their own renewable energy sources by installing solar panels at their homes to reach self-sufficiency. This ensures direct sales of vehicle-to-grid technology to consumers via automakers of electric vehicles.
Request a sample to get extensive insights into the Vehicle-to-Grid Technology market
Standardization of Regulations and Battery Management Systems to Overcome Restraints in the V2G Technology Market
Countries such as France have strict regulatory norms to control how electricity can be injected into a grid from individual producers. Also, multiple administrative steps require approval from government authorities. Such complicated procedures are highly unwelcome for BEV and PHEV owners. As such, market players are overcoming tight regulations by establishing standardized V2G protocols by striking the right balance between protecting the grid network and the smooth implementation of this technology.
There is a direct impact of vehicle-to-grid technology on car batteries, since the implementation of the technology reduces their life cycle. Depreciation of batteries is estimated to affect automakers the most in the value chain. Since automakers offer warranty on batteries to consumers, they could suffer revenue losses due to rapid battery depreciation. To compensate for these losses, automakers could device schemes with grid operators. Even with improvements in the battery life cycle, contracting would be an issue, as automakers will have to split the revenue gains amongst grid operators and consumers. Thus, it is necessary for them to strategically manage change, develop improved batteries, and educate consumers about the proper usage of the batteries.
Read Our Latest Press Release: