Underground Mining Diamond Drilling Market – Snapshot
Underground mining diamond drilling is a process of extracting core samples from the earth. It is an exploratory process that determines the structural strength of mineral composition for potential mining or construction projects. A diamond implemented drill bit is used in diamond drilling. Diamond coring bits are widely used in the exploration phase of the mining industry. Rock samples are analyzed by geologists to understand the sub-surface geology. Diamond core drill bits are reliable, as they are made from industrial strength diamonds. These drill bits are unlikely to break or get damaged.
Request A Sample – https://www.transparencymarketresearch.com/sample/sample.php?flag=S&rep_id=54360
Growth in Investment in Metal Mining Industry to Boost Market
Increase in demand for base metals such as copper, nickel, lead, and zinc; and precious metals such as gold, silver, and diamond is projected to boost investments in the metal mining business. This is likely to augment the demand for diamond core drill bits that are utilized in underground mining of hard rocks. The order intake of drill bit machines for underground mining, especially for exploration of metals and precious metals, is high than that of coal mining.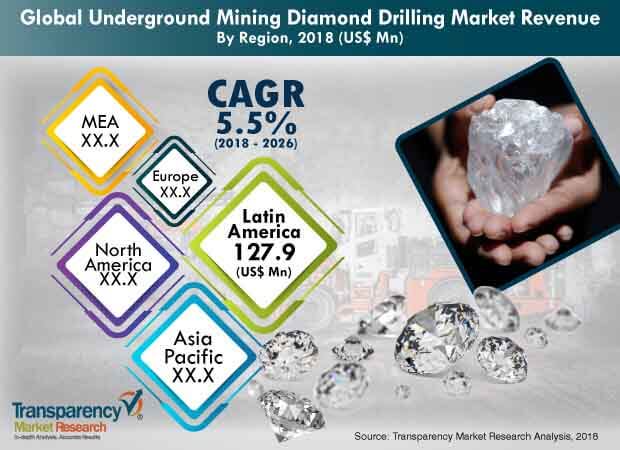 More Trending Reports by Transparency Market Research – https://www.prnewswire.com/news-releases/escalating-automobile-sales-unlocking-novel-growth-prospects-asia-pacific-to-be-crowned-as-prominent-growth-generating-region-for-global-viscosity-index-improvers-market-for-automotive-across-assessment-period-of-2019-2027-tmr-301131311.html
Rise in Demand for Intelligent Drill Bits and Clean Coal Technologies to Propel Market
Diamond core drilling is an ideal method to remove a large piece of cylindrical material. Diamond core drill bits are primarily employed in the exploration industry, especially for hard rocks, as the penetration of diamond bits is high vis-à-vis that of other materials. In November 2018, Halliburton Company released Cerebro in-bit sensor package, a new technology that obtains performance data directly from the drill bit and analyzes it to optimize cutter engagement, reduce uncertainty, and increase drilling efficiency. The new service improves data measurement and overall drilling performance. This is estimated to drive the demand for diamond core drilling bits in underground mining applications.
Coal is considered the most polluting fossil fuel. When burned, it causes global warming and acid rain, and contaminates groundwater. Adoption of the clean coal technology has led to more efficient combustion of coal. Under this technology, carbon is captured and stored in order to lower the emission of various toxic gases. Emerging economies in Asia Pacific are the major consumers of coal. These countries also invest significantly in production and development of coal fired power plants. Clean coal technologies are expected to provide efficient solutions for greenhouse gas emission during the burning of coal. This is estimated to boost the overall mining investment in underground coal mines, thereby propelling the demand for diamond core drill bits/drill rigs.
Developments & Innovations in Terms of Product and Technology
In June 2016, Sandvik AB signed an underground mining equipment deal with China-based Lingong Group Jinan Heavy Machinery for the production and sale of surface and underground mining equipment. In 2017, Atlas Copco acquired Mobilaris MCE AB, a Sweden-based company that provides advanced software solutions. This acquisition is projected to boost the former's underground mining operations and process optimization business. In August 2018, Atlas Copco announced that it is targeting zero-emission underground mining. The company is developing a battery-driven machinery, which is likely to minimize the consumption of diesel and other fossil fuels. In November 2018, Epiroc AB acquired Sautec A.S., a distributor of mining and construction equipment. Based in Tallinn, Estonia, Sautec A.S. has presence in Latvia and Lithuania. In October 2018, Epiroc AB invested in autonomous mining solutions business. The company acquired 30% share of ASI Mining, LLC, which is based in Mendon, the U.S., and is a subsidiary of Autonomous Solutions Inc. that provides technology solutions for autonomous operation of mining vehicles.
Ask for Discount on Premium Research Report With Complete TOC at – https://www.transparencymarketresearch.com/sample/sample.php?flag=D&rep_id=54360
Latin America Market to Remain Dominant
Latin America is the key region of the global underground mining diamond drilling market. It is expected to maintain its dominance during the forecast period owing to the year-on-year increase in mining activities. Rise in investments in the extraction of underground minerals is expected to augment the demand for hard rock mining in Latin America. Countries in Latin America are beginning to shift to underground mining from open-pit mining. In underground mining, the ore is extracted and the waste rock is left behind. This limits the environmental impact by avoiding the removal of waste rock that has no economic value. In Brazil, the most productive underground mines extract up to 1,000 kilo tons of ore per year. The Government of Chile has started investing increasingly in underground mining. The country accounts for the largest underground copper deposits in the word. These deposits belong to the state-owned National Copper Corporation of Chile.
Request for covid19 Impact Analysis – https://www.transparencymarketresearch.com/sample/sample.php?flag=covid19&rep_id=54360
Highly Competitive Market with Dominance of Top Players
The global underground mining diamond drilling market is highly fragmented; large numbers of local and international players provide underground mining diamond drilling services. Leading players dominate the market. Key players operating in the underground mining diamond drilling market are Sandvik AB., Atlas Copco, Boart Longyear, FORDIA, Geomachine Oy, Wuxi Geological Drilling Equipment Co.,Ltd, VersaDrill Canada, Zinex Mining Corp, SINOCOREDRILL GROUP, and Epiroc AB.