Tire Machinery Market – Incorporation of Industry 4.0 Capabilities to Set New Scales
Evidently, Industry 4.0 is a revolution for new efficiencies in the entire tire manufacturing and distribution ecosystem, including crux tire machinery. Industry 4.0-enabled tire machinery entails the convergence of robots, computers, and the Internet of Things that benefit in two ways: automation of tasks; and use of sensors to capture data and comprehend the performance of a string of tools in the entire assembly, and optimize their performance if needed.
This new-age capability for tire machinery has served to regulate processes at the micro level in the entire assembly. From tracking and tracing raw materials, monitoring work in processes across the assembly, to efficient and accurate outbound shipping Industry 4.0-enabled tire facilities, all serve to attain all of this.
Want to know the obstructions to your company's growth in future? Request a brochure @ https://www.transparencymarketresearch.com/sample/sample.php?flag=S&rep_id=71265
Collectively controlled by a higher-level cyberphysical system, elements of automation for tire machinery include automated guided vehicle (AGV), articulated robots, gantry robots, mobile robots, and monorail transfers and conveyors for end-to-end processes.
So much so, a combination of automation and sensors allows technical personnel to have complete control over material and data flow in the tire machinery. Such advancements in tire machinery are arousing the interest of stakeholders to understand how the tire machinery market is likely to shape in the coming years. To provide insights for the same, Transparency Market Research (TMR) has released a market intelligence publication on the tire machinery market for the forecast period of 2019 and 2027. Following a combination of extensive research and foresights of seasoned analysts, this report provides crucial projections for a know-how of the tire machinery market over this forecast period. According to TMR, the tire machinery market is predicted to expand at a steady ~4% CAGR from 2019 to 2027 vis-à-vis revenue.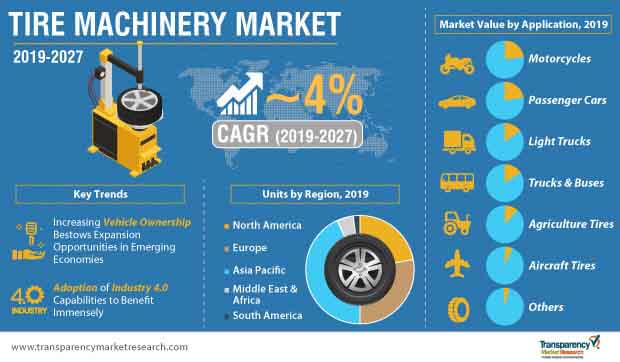 Looking for Customized Insights to build your business for future, ask for a sample report here
Tire Machinery Market – Notable Trends
Heightened Safety Standards of Passenger Vehicles Impels Adoption of Next-generation Tire Manufacturing Processes
In several parts of the world, the exponentially rising demand for passenger vehicles is leading to the speedy automation of tire manufacturing facilities. In this scope, upgrades of tire machinery for Industry 4.0 capabilities are resulting in the efficient and accurate operations of this machinery. This, in turn, enables a higher production rate of passenger and commercial vehicles. Besides this, increasing consumer demand for the high performance and increased on-road safety of passenger vehicles is necessitating tire machinery assemblies to be automated. Such upgrades serve to be a plus for the growth of the tire machinery market.
Changing environmental laws pertinent to tire manufacturing is another key factor necessitating upgrades in the elements of tire manufacturing, including tire machinery. Tire manufacturers are increasingly experiencing tremendous pressure regarding the automation of end-to-end processes of tire machinery, including raw material mixing, tire building, and tire curing. Such automated processes enable cutting down on resources, which indirectly reduces the burden on the environment. This boosts the uptake of automation in the tire machinery ecosystem.
Looking for exclusive market insights from business experts? Request a Custom Report 
Fancy for Fiery Motorbikes Spurts Demand for Motorcycles among Youth in Developing Economies
Among all, demand from within the motorcycle application segment remains at the fore in the tire machinery market. In 2018, the motorcycle application segment held a significant 21% share of the tire machinery market. Increasing spending on motorcycles, especially among the youth in developing economies, is serving to boost the growth of motorcycle segment of the tire machinery market. The attraction for fiery motorcycles to mimic Hollywood actors for style associated with motor biking is a key factor for the growing demand for these vehicles. This indirectly fuels the growth of the tire machinery market.
Read TMR Research Methodology at https://www.transparencymarketresearch.com/methodology.html
The passenger cars segment follow the motorcycles segment in the tire machinery market, finds TMR. Economic growth along with rising purchasing power has led to increasing car ownership in developing economies. Discerning urban consumers in developing economies consider vehicle safety, mileage, and aesthetics before making a car purchase. Such parameters have led manufacturers to upgrade their manufacturing facilities from end-to-end, including intermediate elements such as tire machinery. The significance of tires for vehicular safety is leading to rapid up-gradation of tire machinery within the tire manufacturing ecosystem.
Read Our Trending Press Release Below: https://www.prnewswire.co.uk/news-releases/covid-19-pandemic-to-invite-shining-prospects-for-growth-across-vials-market-tmr-projects-valuation-of-us-9-6-bn-by-2027-end-836205130.html