Knowledge, Competence, Personal Experience Constitute Online Learning During COVID-19 Outbreak
Many schools and educational institutes continue to use smart learning tools, since the COVID-19 outbreak has not completely subsided. Owing to this shift, consumers have adapted to online learning on the long-term basis, which is creating business opportunities for companies in the smart learning & education market. Several startups are planning on investments in launching educational apps to ensure continuity of educational programs.
Online teaching is being met with challenges. Stakeholders in the smart learning & education market need to address deep restructuring of the teaching process and use different digital tools to enhance interaction with students. Knowledge, competence, and personal experience of students are factors to be taken into consideration, while deploying online learning.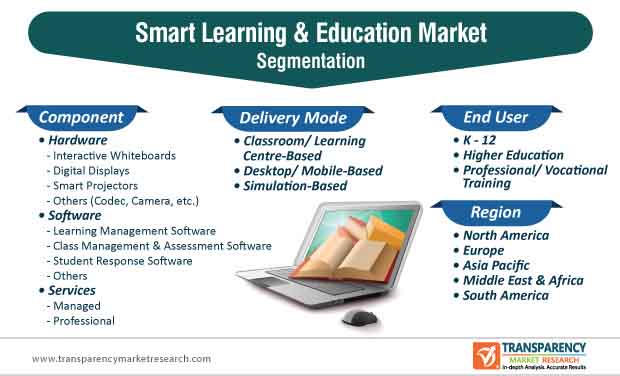 Video Conferencing Apps Help Students Stay Updated About their Course Remotely
The smart learning & education market is projected to expand at an astonishing CAGR of ~24% during the forecast period. Smart learning has been able to overcome challenges of higher education, especially in countries of the Middle East. This teaching reduces the hassles associated with the high cost of transportation, school fees, and cost of health insurance.
Indian education apps are storming the smart learning & education market. E-learning apps such as BYJU's and Vedantu are gaining prominence in online classrooms, especially during the ongoing coronavirus outbreak. Companies are innovating in video conferencing apps to help students stay updated about their course remotely. App developers are making use of animated videos and other intuitive tools to make learning more engaging in online classrooms.
To understand how our report can bring difference to your business strategy, Ask for a brochure
Schools in Finland Increase Student Interaction with Latest Learning Tools
Ongoing change in education has triggered the need for new user-centric and sustainable learning environments. Such trends are translating into opportunities for companies in the smart learning & education market to create the availability of new national curriculum and transform the vocational education system. As such, these trends are gaining increased popularity in Finland with the proliferation of digitalization technologies.
Transversal competences, versatile learning environments, and phenomenon-based learning are being highly publicized in Finland. Stakeholders in the smart learning & education market are addressing student needs for enabling the school's interaction with the surrounding society with the help of latest learning tools such as smart projectors and digital displays.
Purchase our Premium Research Report At:https://www.transparencymarketresearch.com/checkout.php?rep_id=81325&ltype=S
Camera-based Touch Technology Gaining Prominence in Smart Whiteboards
Interactive whiteboards are acquiring visibility in schools and universities. Manufacturers in the smart learning & education market are integrating these whiteboards with a computer, projector, and whiteboarding software to boost sales. The Centre for Innovation and Excellence in Learning at Vancouver Island University is making the use of smart collaborative learning software for education in whiteboards that accept touch, pen, and even solid object inputs.
The camera-based touch technology is being accommodated in smart whiteboards and interactive displays. Stakeholders in the smart learning & education market are gaining a competitive edge over other companies by introducing proprietary software and firmware in whiteboards that can detect finger and pen contact on the screen.
Get More Press Releases by TMR: https://www.prnewswire.com/news-releases/accepted-benefits-of-increased-vehicle-safety-improved-overall-on-the-road-quality-to-extend-copious-growth-opportunities-for-automotive-digital-key-market-growth-projected-at-outstanding-21-5-cagr-from-2021–2031–tmr-301313826.html
Smart Projectors Break Away from Outdated Teaching Methods
Compact, portable, and innovative designs in smart projectors are grabbing the attention of education providers. Benq's smart projectors are storming the smart learning & education market, enabling wireless Internet connectivity, web browsing, and sharing of online teaching material without the need of a laptop or a PC. App accessibility, wireless mirroring, and built-in android systems in smart projectors are anticipated to transform classrooms post coronavirus pandemic.
Smart projectors are eliminating the hassles of conventional projectors that are slow in switching from one device to another, and are difficult for IT department to centrally manage devices. Companies in the smart learning & education market are making projectors that facilitate wireless screen sharing and offer a blended & intuitive learning experience for students.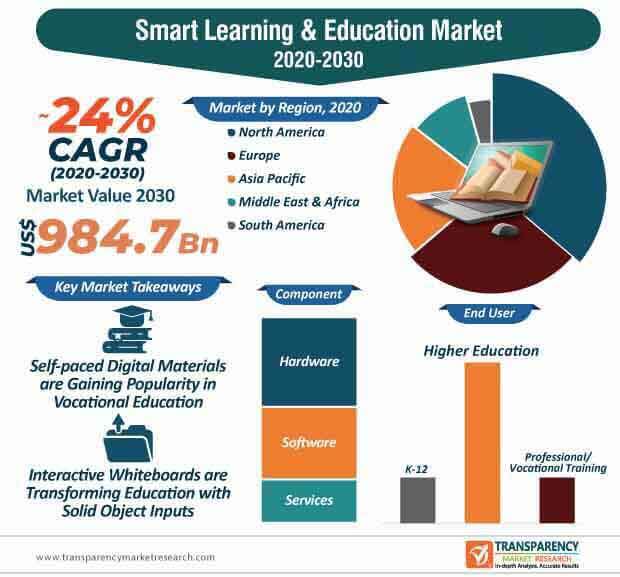 Stuck in a neck-to-neck competition with other brands? Request a custom report on Smart Learning & Education Market
Smart Learning & Education Market: Overview
According to a latest research report on the global smart learning & education market published by Transparency Market Research for the historical period 2018–2019 and the forecast period 2020–2030, rise in Internet penetration and smartphone users is anticipated to propel the smart learning & education market during the forecast period. Rising enrollment of learners in online learning platforms has raised demand for smart learning education solutions and services. Additionally, increase in the number of colleges and universities across developing economies has further impacted the demand for smart learning & education.
As per the World Economic Forum, approximately 1.2 billion children are out of school during the COVID-19 situation, globally. Smart learning & education offers an online classroom that helps students to attend classes effectively and remain coordinated remotely. Global initiatives on a large scale to leverage technology is favoring the smart learning & education market.
In terms of revenue, the global smart learning & education market is estimated to exceed the value of US$ 984.7 Bn by 2030, expanding at a CAGR of ~24% during the forecast period
Increase in Internet Penetration and Advent of Technology: A Key Driver of Smart Learning & Education Market
According to the Internet World Stats, there are 4.79 billion Internet users in the world. Rising number of Internet users across the globe has brought tremendous change across all sectors. Therefore, the education sector has transformed traditional-based learning, which is driving the demand for smart learning & education.
Smart learning & education techniques deliver knowledge with the help of electronic media and resources. The major benefit of smart learning is that it is highly cost-efficient, as it reduces the cost component in the purchase of course materials. All course materials are free in online learning.
In classrooms throughout the world, the use of smart learning & education solutions is becoming more popular. Therefore, public schools need to make appropriate changes in their educational infrastructure, which, in turn, is likely to fuel the demand for smart learning & education solutions in the upcoming years. Teacher skills are considered a vital element for this reason.
COVID-19 has triggered the educational sector to transform land-based learning to smart learning & education. The educational sector has merged with various e-learning companies, enabling students to continue their studies without any hindrance. The major benefit of smart learning techniques is that it allows students to attend lectures from anywhere on any device. Secondly, it allows students to record their lectures and it can be used many times.
IT & Telecom
TMR's solid presence in the market research space comprising an expert team of researchers makes for its exemplar solutions and strong relationships with clients for several years. The practice to deep dive and understand the dynamics of a business sector for market research solutions makes us stand apart. The ubiquity of information technology that provides frameworks for end-to-end business operations today, with the added support of 4G and 5G telecom networks that has led to double-digit growth rate of the IT &Telecom sector are well covered in our reports.
TMR is a leader in the market research space providing end-to-end business solutions and consulting services. TMR operates from its own office space of almost 10,000 sq. ft located in a prime commercial complex at Pune. We serve clients in 150 countries with an approach to deep dive into the economic aspects and geographical nuances for unfailing business intelligence.
Contact us:
Transparency Market Research
State Tower,
90 State Street, Suite 700,
Albany NY – 12207,
United States
Tel: +1-518-618-1030 Email: [email protected]
Website: https://www.transparencymarketresearch.com
https://todaysmarkettrends.wordpress.com