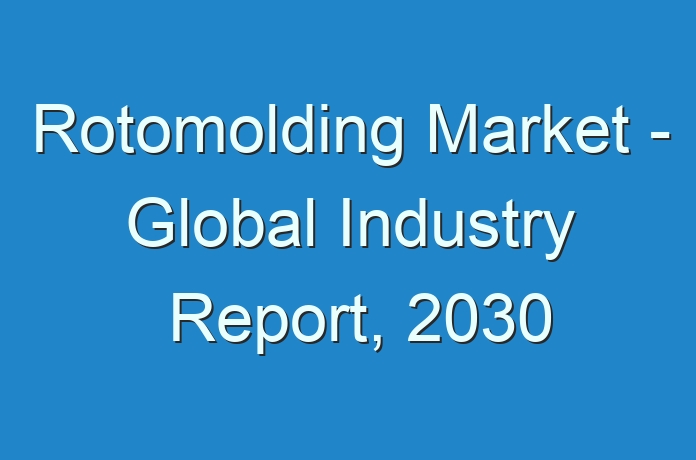 Cost-efficient Rotomolded Products Meet Critical Project Needs during COVID-19 Pandemic
Since rotomolded products are customary in water treatment, agriculture, and construction applications, manufacturers in the rotomolding market are maintaining stable supply chains to deliver critical products during the COVID-19 pandemic. For instance, Rotational Mouldings— a company based in Derbyshire, continues to manufacture at all its facilities by complying with national guidelines to avoid supply shocks in critical projects.
Companies in the rotomolding market are diversifying their production activities in sewage treatment, medical & hygiene, and traffic management applications to keep economies running. They are offering solutions in 3D (dimensional) CAD (Computer Aided Design) design and tooling project management to gain advantage over other companies. Manufacturers are increasing the availability of cost-efficient rotationally molded products, since the COVID-19 pandemic has caused a slowdown in the global economy.
Request a sample to get extensive insights into the Rotomolding Market 
Improved Production Processes and Work Environment Help Retain Plant Operatives
The rotomolding market is projected to surpass the revenue of US$ 7.7 Bn by the end of 2030. However, manufacturers find it difficult to hire new plant operatives and retain existing plant operatives. Hence, companies in the rotomolding market should make efforts to make processes more productive and enhance the work environment to retain existing plant operatives. This will help the market to grow at an exponential rate and contribute toward the development of regional rotomolding business.
Companies are penetrating into various end-use segments for automotive, material handling, and toy industries. There is a demand for aesthetically pleasing and structurally strong rotomolded products in medical and playground equipment applications.
Biodegradable and Bioderivative Materials Bolster Credibility of Manufacturers
Companies in the rotomolding market are providing differentiating solutions to clients in order to stand out in the largely fragmented competitive landscape. For instance, Rotobasque— a plastic fabrication company in Spain is increasing its R&D in biodegradable and bioderivative materials to gain a competitive edge over other companies. Manufacturers are gaining a strong research base in recycling of plastics and contributing toward a circular economy to reduce their environment footprint.
In order to hire new plant operatives and retain existing ones, manufacturers in the rotomolding market are integrating process innovations pertaining to foaming and improved mechanical performance. They are tapping into new applications such as generator set housings, battery enclosures, and interior elements of vehicle cabins to expand market size.
Long-term Durability and Color Fastness in Resins Improve Lifespan of Rotomolded Products
Innovative rotomolding resins are bringing significant changes in the market landscape. The Dow Chemical Company— a U.S. multinational chemical corporation, is increasing its advertising and marketing capabilities for its RESILITY™ innovative rotomolding resins that deliver durability, long-lasting color, and brightness in end-use products. Powerful performance and consistency are key to manufacture rotomolded systems.
Moreover, long-term durability and color fastness in resins are being preferred in the rotomolding market. Hence, manufacturers in the rotomolding market are capitalizing on this demand to increase their output capacities in resins. Innovative resins help products to last for generations, and facilitate less material use and reduce transportation emissions.
To understand how our report can bring difference to your business strategy, Ask for a brochure
ISO Certified Companies Being Preferred for Custom-made Rotomolded Products
Rotational molding experts are offering tailored solutions to clients pertaining to plastic components. ISO (International Organization for Standardization) certified companies are being preferred by clients. Manufacturers in the rotomolding market are increasing their production capabilities in certified rotomolded products that are becoming commonplace in treatment systems & tanks, street furniture, industrial items, and automotive accessories.
The pre-study of projects has become crucial for manufacturers in the rotomolding market to offer custom-made products. They are educating customers about the best choice of materials and tools to develop high durability rotationally molded products. Companies are hiring qualified engineers who are part of the design department and analyze project before offering solutions. The high-density polyethylene (HDPE) is predicted to dictate the lion's share of the market.
Stuck in a neck-to-neck competition with other brands? Request a custom report on Rotomolding Market 
Analysts' Viewpoint
Amidst volatility in demand and supply of goods and services, manufacturers are focusing on business-critical projects during the COVID-19 outbreak. The rotomolding market is anticipated to grow at a favorable CAGR of ~6% during the assessment period. However, lack of material options, high process durations, and significant expense on crude oil materials are hampering market growth. Hence, companies should increase their research expenditure to incorporate biodegradable & bioderivative materials to enhance production processes and reduce material and production costs. Sustainable production practices involving innovative resins are resulting in less material use and reduced transportation emissions. Knowledgeable technical staff involving qualified engineers are helping manufacturers gain market recognition.
Rotomolding Market: Overview
According to Transparency Market Research's latest research report on the global rotomolding market for the base year 2019 and the forecast period 2023 to 2030, rise in building & construction activities is expected to boost the global rotomolding market during the forecast period
In terms of revenue, the global rotomolding market is estimated to cross US$ 7Bn by 2030, expanding at a CAGR of ~6% during the forecast period
Rotomolding is primarily used in the manufacture of tanks. Rotomolding is also widely employed to manufacture polyethylene plastic.
Diverse Applications of Polyethylene-based Rotomolding Products: Key Driver
Polyethylene is a widely available plastic. Large volume of polyethylene is produced across the world each year. Rotomolding is a rapidly expanding plastic processing technique. Rotational molded polyethylene is utilized in various applications in watercraft, automotive, agricultural, kayaks, industrial products, and various indoor products such as toys. A prominent advantage of using polyethylene is that it is impact resistant. This makes it an ideal option for products such as boats and large containers. The material is also corrosion-resistant. This helps prevent damage caused by oxidation and other chemical reactions.
Using polyethylene for rotomolding is considered eco-friendly, owing to its recyclability. Polyethylene, such as HDPE & LDPE, can be recycled into other products. This is more cost-effective than manufacturing a new product from new plastic.
Currently, rotational molded plastic boats make up a bulk of the boat industry due to the longevity of the polyethylene material. These types of boats do not require painting or finish, and are easy to maintain. Rotational shaped watercraft can be dual or single wall for extra durability, as polyethylene hulls can resist the rough environment of water solutions.
Applications of rotomolded polyethylene in sports & leisure and toy industries have increased due to various factors such as packaging flexibility and durability. The agricultural sector is also driving the polyethylene market, owing to increase in the demand for polyethylene to manufacture hydraulic tanks, cornheads, seed hoppers, dump boxes, livestock feeders, livestock drinkers, etc.
Beneficial properties of rotomolded polyethylene, such as increased impact strength, good chemical resistance, high ductility, and low weight, are expected to boost the polyethylene as well as rotomolding market
More Trending Reports by Transparency Market Research – https://www.prnewswire.co.uk/news-releases/stellar-22-cagr-set-to-propel-transparent-ceramics-market-forward-from-2019-to-2027-tmr-804840555.html
Major Challenges for Rotomolding Market
Rotomolding requires high cycle time, usually eight rotations per minute, and can take up to three hours to complete one part, as compared to that taken by other plastic processing techniques
Raw material used in the rotomolding process needs to be in fine powder form or promptly changed over from granules to a fine powder and must possess high thermal stability, thereby limiting raw material selection to poly-based resins
In case of rotomolding, the entire mold must be cooled, while only the product needs to be cooled before being removed in other processes. Water cooling processes are possible; however, there is still a significant down time of the mold.
These disadvantages of rotational molding are expected to hamper the rotomolding market
Expansion of Construction Sector of Asia Pacific to Offer Lucrative Opportunities for Rotomolding Market
In 2015, the Prime Minister of India, Narendra Modi, announced plans to build homes for the urban population. He also launched an affordable housing scheme called "Housing for All by 2023", with an overall objective of providing housing for slum dwellers with participation of private developers using land as a resource, promoting affordable housing for weaker sections through credit-linked subsidy, focusing on partnership with public & private sector for affordable housing, and providing subsidy for house construction or enhancement. This is expected to create demand for water tanks manufactured through the rotomolding technique.
In 2019, the National Development and Reform Commission of the People's Republic of China approved 26 construction projects with total expected investment of US$ 142 The Government of China plans to diversify its economy in order to counter the sluggish economy growth due to its dependency on exports and manufacturing sector. It aims to achieve this objective by building affordable housing for its population in all provinces across the country.
An investment of US$ 142Bn was made by the National Development and Reform Commission for infrastructure development projects. Furthermore, the Beijing Municipal Commission of Development and Reform also announced upcoming infrastructure projects worth US$ 36 This rise in construction activities in China and India is boosting the construction industry in Asia Pacific, which in turn, is estimated to boost the market for rotomolded plastic products such as water tanks for residential applications.
Request for covid19 Impact Analysis – https://www.transparencymarketresearch.com/sample/sample.php?flag=covid19&rep_id=69095
Rotomolding Market: Competition Landscape
The global rotomolding market was highly fragmented in 2019. Tier-1 companies comprise major players such as

Elkhart Plastics, Inc.,
Dutchland Plastics,
Roto Dynamics Inc.,
PartnerPlast Group. These players have considerable presence across the globe. These companies accounted for 25% to 35% share of the rotomolding market in 2019.

Tier-2 companies operating in the rotomolding market in include Rotoplast SAS, Carris Pipes & Tubes Private Limited, Fixopan, Sherman Roto Tank, and several small-scale regional players. These companies held around 15% to 25% share of the rotomolding market in 2019.