Global Rigid Polyurethane Foam Market: Snapshot
The global rigid polyurethane foam market is gaining from the excellent thermal insulation property of rigid polyurethane foam. Due to this, rigid polyurethane foam finds varied applications across several areas such as in domestic appliances, building and construction, automotive, and industrial insulation.
The insulating properties of rigid polyurethane foam make it ideal for walls and roofs of new homes and also for remodeling existing homes. Rigid polyurethane foam helps to maintain a uniform temperature inside homes and buildings that directly translates into energy savings. This holds significance in cold countries that have a huge temperature difference between the inside and outside temperatures. Rigid polyurethane foam also helps reduce noise level inside homes and buildings.
Request Brochure @
https://www.transparencymarketresearch.com/sample/sample.php?flag=B&rep_id=33224
A report by Transparency Market Research (TMR) forecasts the global rigid polyurethane foam market to clock a CAGR of 6.0% between 2017 and 2025. Progressing at this rate, the market's valuation of US$15.2 bn in 2016 will become US$25.5 bn by the end of 2025.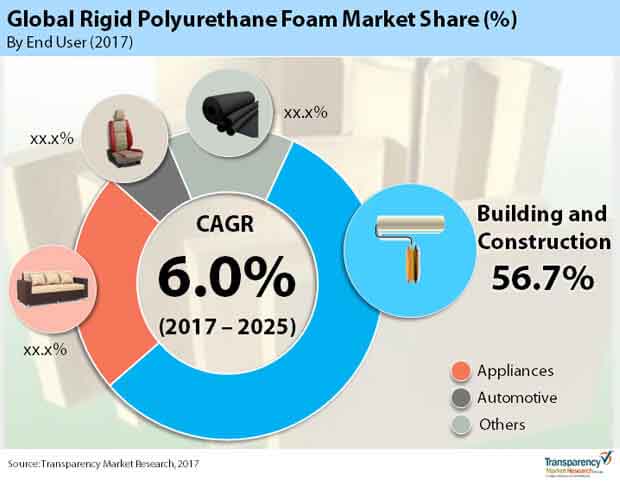 Building and Construction to Continue to Register Strong Growth
The various end users of rigid polyurethane foam are automotive, building and construction, industrial, and others. Vis-à-vis value and volume, building and construction stood as the leading end-use segment amongst all in 2016. The rigid polyurethane foam for building and construction is used for residential housing, commercial spaces, retail stores, factories, power stations, food processing plants, warehouses, cold stores, telecom shelters and public institutions such as schools and hospitals.
REQUEST FOR COVID19 IMPACT ANALYSIS –
https://www.transparencymarketresearch.com/sample/sample.php?flag=covid19&rep_id=33224
Some of the forms in which rigid polyurethane foam is used in the building and construction segment are sandwich panels with firm facings as roof and wall panels, insulating boards with flexible facings for ceilings, roofs, walls, and floors, spray-in-place foam for sealing and insulation, and insulating and construction material as cut to-size pieces from slabstock. Of these, insulation board and block is widely used in the construction sector owing to its range of qualities that make it simple and highly effective to work with.
In 2016, appliances stood as the second-leading end user in the rigid polyurethane foam market. Freezers, refrigerators, and hot water tanks are some of the appliances that use rigid polyurethane foam to maintain the inside temperature in the appliances.
Powered by China, Asia Pacific to Remain Dominant
Geography-wise, the report takes stock of the potential of rigid polyurethane market in North America, Europe, Asia Pacific, Latin America, and the Middle East and Africa. Of them, Asia Pacific led the overall market in 2016 holding more than 38% share in terms of revenue. Going forward too, the region is anticipated to hold on to its dominant position. China alone contributes more than 55% revenue of Asia Pacific rigid polyurethane foam market mainly because of large volume production of rigid polyurethane foam.
Rapid urbanization as well as increasing awareness about environmental sustainability will further boost Asia Pacific rigid polyurethane foam market over the forecast period. The construction sector accounts for substantial demand for rigid polyurethane foam, along with demand from appliances segment. Tax rebates on the purchase of energy efficient properties in some countries in Asia Pacific is further bolstering the market's growth. Developing countries such as China, India, and countries in South East Asia are anticipated to present ample opportunities to serve the thermal insulation needs of new construction undertakings in the upcoming years.
Europe is also a key market for rigid polyurethane foam; the region consumes more than 20% of the total volume of rigid polyurethane foam produced globally.
Some of the leading companies in the global rigid polyurethane foam market are Covestro AG, BASF SE, DUNA CORRADINI S.p.A., DuPont, Huntsman Corporation, ISOTHANE Ltd., Kingspan Group plc, Owens Corning, and Rockwoll International A/S.