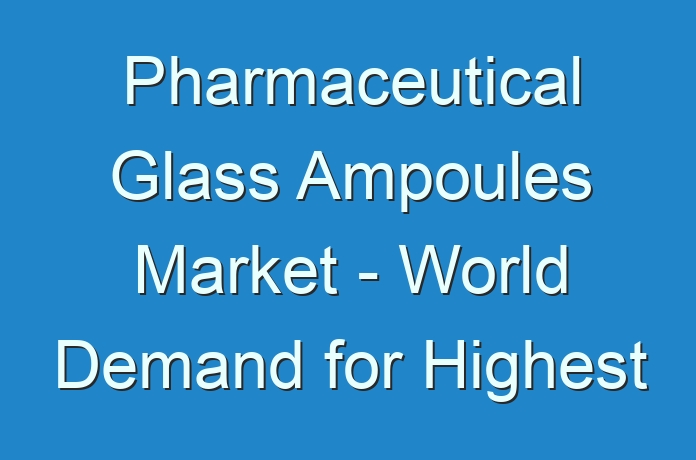 Transparency Market Research delivers key insights for the pharmaceutical glass ampoules market in its published report, which include global industry analysis, size, share, growth, trends, and forecast for 2021–2029. In terms of revenue, the global pharmaceutical glass ampoules market is projected to grow at a CAGR of 9.9% during the forecast period, owing to several factors, about which TMR offers detailed insights and forecasts in the pharmaceutical glass ampoules market report.
Various regulatory authorities across the globe are mandating the healthcare service providers to meet stringent standards, regulations, and requirements of the healthcare and pharmaceuticals packaging industries. This factor has directly impacted the market scenario of pharmaceutical glass ampoules. TMR team segmented the analysis of pharmaceutical glass ampoules market based on product type, capacity, and region. As per TMR analysis, based on capacity, the 6-8 ml segment in the global pharmaceutical glass ampoules market is account for a massive market share and anticipated to drive the overall pharmaceutical glass ampoules market during the forecast period.
Introduction of RFID Codes to Curb Counterfeit Products Redefining Market Growth
Western markets have introduced RFID code tags in pharmaceutical packaging to curb the menace of counterfeit products in the sector. Innovations are driving every sector, such that consumers relate the digital technology as a mode of convenience. Pharmaceutical manufacturers have started to imprint RFID tag codes on packages to ensure that the consumer and even the distributor can authenticate the product. This trend has been seen in European and North American markets, and is slowly spreading into other regions. This technology has given power in the hands of consumers to protect them from substandard and illicit medicines and drugs. Some manufactures in the Asia Pacific region have also started to incorporate RFID codes to increase their financial profitability and redefine pharmaceutical glass ampoules market growth.
Manufacturers Eyeing Anti-counterfeit Packaging to Maximize Financial Revenues
The global pharmaceutical glass ampoules market is constantly facing challenge in the form of counterfeiting products. These products are of sub-standard quality and causes a large amount of damage to company's market value and loss of profits. In a report by the World Health Organization, it is stated that in 2nd and 3rd world countries near about 10-15% drugs and medicines are counterfeit products. These products cause in-curable damages to patient's body and in some severe cases loss of life also happens due to usage of counterfeit products. Manufactures are always working on introducing new and advance anti-counterfeit solutions to protect the brand image and their revenue. Embedment of miniature watermark in glass ampoules has been an effective method to fight counterfeit products. In some cases, layers of packaging are also seen to protect the product. Manufacturers are always working towards finding cost effective anti-counterfeit solutions to increase their revenue in the upcoming years. All these factors are anticipated to propel the sales of pharmaceutical glass ampoules during the forecast period.
Increasing Investment in Healthcare Industry Helping Pharmaceutical Glass Ampoules Market to Gain Momentum
Developing countries are spending large amount of their yearly budgets for improving healthcare infrastructure in their regions. Countries such as India, Brazil, and China are spending a lot to improve healthcare quality in their nations. The 21st Century has seen a large development in the healthcare sector mostly due to recent advancements and innovations. Investments by governmental and private sector towards up-gradation of old facilities, new hospital establishments, setting up of small clinics in remote areas has risen the healthcare quality for citizens of these countries. Moreover, developing nations are on-par for developing economical technology to support their economies and this will help pharmaceutical glass ampoules market to drive towards a positive market growth.
Purchase Premium Research Report @ https://www.transparencymarketresearch.com/checkout.php?rep_id=74806&ltype=S
Pharmaceutical Glass Ampoules Market: Competition Landscape
The global pharmaceutical glass ampoules market is projected to witness strong competition among key players. This market includes few well established market participants. Along with this, several other local and small scale manufacturers are also entering into pharmaceutical glass ampoules market attributing to significant revenue creation with the rising demand for pharmaceutical glass ampoules. Some of the key players operating in the global pharmaceutical glass ampoules market are Nipro PharmaPackaging, SCHOTT AG, Linuo Glassworks Group, Gerresheimer AG, Shandong Pharmaceutical Glass Co. Ltd., Birgi Mefar Group, SGD S.A., Klasspack Pvt. Ltd., Zhengchuan Pharmaceutical Packaging Co. Ltd. and among others.
The tier structure is formulated on the basis of segmental revenue and market share of companies. As per the tier structure, Nipro PharmaPackaging, SCHOTT AG, Linuo Glassworks Group are the Tier 1 players in the pharmaceutical glass ampoules market. These leading companies are adopting key strategies such as business expansion, acquisition and products launch to strengthen their position in the pharmaceutical glass ampoules market. Moreover, Tier 2 players are Gerresheimer AG, Shandong Pharmaceutical Glass Co. Ltd., and Birgi Mefar Group.
Read Our Trending Press Release Below: https://www.prnewswire.com/news-releases/covid-19-pandemic-is-accelerating-advancements-in-iot-in-healthcare-market-positive-growth-trajectory-expected-for-the-market-due-to-advent-of-novel-technologies-says-tmr-301311615.html