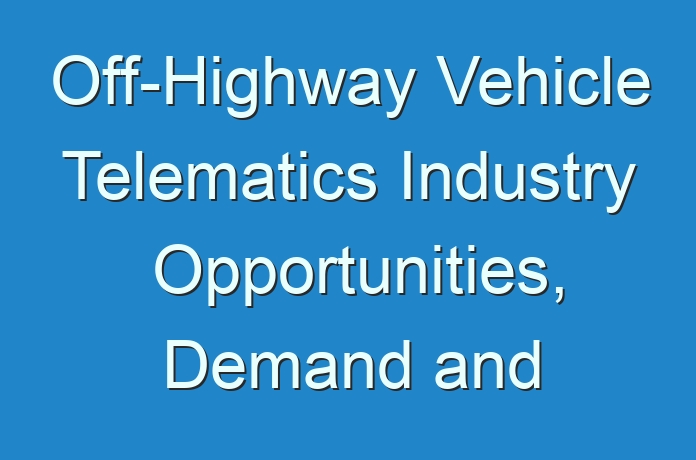 Off-highway vehicle telematics solutions enable continuous monitoring of the location, status, health, and utilization of equipment through the use of OHV telematics devices that support GPS, cellular, or satellite connectivity for access to real-time equipment data
Key Drivers of Off-Highway Vehicle Telematics Market
Rise in demand for OHV data analysis, improved productivity and utilization, and reduced operational costs associated with maintenance and repairs are key drivers of the market. These benefits are prompting fleet managers to prefer productivity tools to improve management, which in turn is boosting the off-highway telematics market.
Regulations in developed regions to equip telematics in off-highway vehicles for better tracking of vehicle emissions, fuel emissions, driver hour regulation, and accident detection are driving the off-highway telematics market. In the U.S., commercial vehicles use electronic logging devices (ELD) or electronic onboard recorders (EOBR) to improve road safety. Compliance for ELDs has been increasing since the mandate was first announced in 2014. This has led to an increase in the demand due to their added benefits over standard ELDs, such as vehicle analytics, accident detection, driver behavior monitoring, and fuel consumption analysis. In the European Union, all business vehicles should obey driver hour regulations and have their vehicles fitted with a tachygraphy if these vehicles weigh more than 3,500 kilograms.
PreBook Now:
Popularity of telematics systems is increasing in heavy-duty on and off-highway equipment markets. Major OEMs are currently integrating telematics systems as standard on their vehicles, which is currently being extended to other range models and equipment categories. Expansion of end-use industries, such as construction, mining and agriculture, especially in developing countries is also estimated to further drive the demand for off-road vehicles and consequently, propel the off-highway vehicle telematics market.
Are you a start-up willing to make it big in the business? Grab an exclusive PDF Brochure of this report
Challenges in Off-Highway Vehicle Telematics Market
The recent outbreak of COVID-19 pandemic has affected national as well as international automotive supply chains, manufacturing and R&D operations and consequently, hampered the automotive industry. Post first wave of COVID-19 global economies have started opening up automotive manufacturing and supply chain operations. Thus, the COVID impact on the industry have seems to reach a state of normalcy; however, a resurgence in COVID-19 cases in countries across Europe has prompted governments to impose a second round of lockdown restrictions and hence, uncertainty in the automotive industry continues. A gradual recovery in demand of automotive and ancillaries is anticipated in the next few months despite concerns around the risk of a second wave of infection in numerous countries and other geopolitical risks.
Opportunities in Off-Highway Vehicle Telematics Market
In telematics, several options are available in terms of device type, vehicle class, and asset equipment. Vehicle telematics use locational data and data from other sensors to display information about motor vehicle operation. Some data is based on global navigation satellite systems such as the global positioning system (GPS). Therefore, telematics pricing works with GPS Insight on a per-vehicle or a per-month basis. The per-unit cost correlates to the kind of solution and features client opts for based on his business requirement. Additionally, telematics end-users can opt for other options for a few years and receive most hardware at zero cost with free installation. Therefore, the availability of telematics solutions according to the client's requirement and budget is likely to fuel the off-highway vehicle telematics market in reaching wide class fleet operators in the next few years.
Key Players Operating in Off-Highway Vehicle Telematics Market
The global off-highway vehicle telematics market is moderately concentrated due to the presence of top manufacturers. A few of the key players operating in the global off-highway vehicle telematics market are:
ACTIA Group
Airbiquity Inc.
AT&T Inc
Bridgestone Europe NV/SA
Delphi
Denso Corp
Harman International Industries Inc.
Infineon Technologies AG
KORE Wireless
MiX Telematics Limited
Navman Wireless
ORBCOMM Inc
TomTom International BV
Topcon Corporation
Trackunit A/S
Wacker Neuson SE
Zonar Systems Inc.
For Right Perspective & Competitive Insights on Off-Highway Vehicle Telematics Market, Request for a Sample
Read our Latest News Publication: