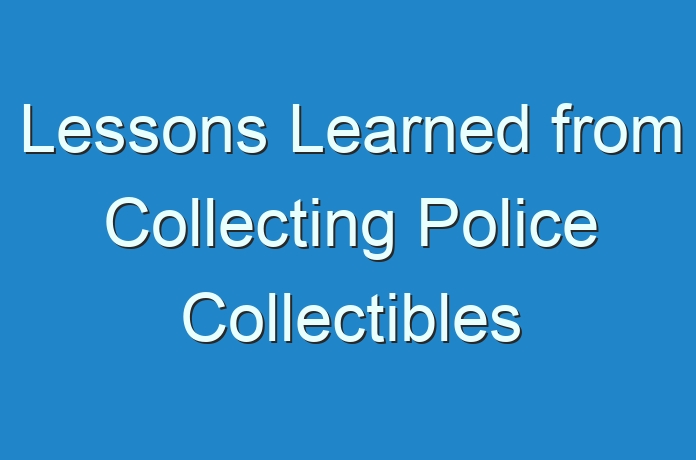 Police memorabilia collection is one of the most popular hobbies among the former law enforcement officers and their supporters. I am an avid police collectibles collector; I have been doing it for years and reached a point where I have good knowledge. I want to share my experience with those who are considering starting their collection. There is a lot to be learned about this hobby, especially if you are just a beginner. I would not recommend a beginner to get into this hobby unless they have gained knowledge. Like any other hobby, collecting police memorabilia requires a lot of time, money, and patience. Here are lessons learned from collecting police memorabilia over the years.
Starting the Police Memorabilia Collection Without a Passion
When I started collecting police memorabilia, such as police patches, badges, and other police collectibles, I had no connection with law enforcement. All I had was the passion for law enforcement, and I wanted to do something to show the brave men and women in blue my continuous support for what they do to protect us. If you don't have a passion for this hobby and you still want to begin your collection, two things can happen to your hobby: 1- you will lose interest quickly because of lack of passion, knowledge, and enthusiasm; 2- you might develop a keen interest in the history of law enforcement and the collectibles that you collect.
If you don't have a passion for this hobby, it might not be the right thing to do. There are various reasons for that. First, this hobby is demanding, which means that you need to dedicate some time to it to grow your collection. Second, you might end up getting burned because of forged r fake memorabilia.
Checking Local Laws about Collecting Police Items
It is essential to check out the local laws about whether or not you can collect police items, such as patches, badges, and other things. In some states in the United States, laws have been imposed by law enforcement agencies to control the possession of law enforcement patches or insignia to avoid security issues. For example, in West Virginia, it is illegal to trade patches. In North Carolina, police departments are prohibited from selling patches. Before you get into this hobby of collecting police patches or other items, it would be wise to check the local laws about police collectibles.
Type of Police Memorabilia Collection
It is essential to decide which type of collectibles you want to collect. There are antique police items that may be too expensive and rare. You can build a historical event-based collection that would include items used in the historical law enforcement events. Likewise, you can find your own niche/personal interest in the type of collectible items you want to collect.
Finding the Authentic Police Collectibles
When I first started collecting police patches and police challenge coins, I got burned a couple of times. The reason was simple; I did not do my research before making a purchase. I found some sellers online on eBay and other online auction websites where the sellers offered rare vintage patches and police coins. I learned my lesson the hard way after losing some good money on those fake items. It is essential to know how to check the authenticity of different vintage police items that you buy online from auction sites or any other sources. You can gain that knowledge by reading a police collectibles guidebook. These guides are readily available on Amazon and other bookstores.
Police Insignia Stickers Vs. Police Support Stickers
Some collectors like collecting police wall stickers, police bumper stickers, and some even cover their cars with these stickers. There is no problem with collecting police stickers unless/until you plaster a unit insignia or police decal on your car's window or bumper. In some states, police organization bumper stickers are illegal.
Since I was unaware of any such law, I once put a police insignia decal on my car's sides, and I was pulled over by cops. What happened next is a long story. The important lesson I learned from this experience is to check local laws about police stickers before you put these stickers on your car. However, you should not have any problem if you collect these stickers to add to your police memorabilia collection. You can also get those police stickers that don't have police insignia or the department's logo. Police support stickers are very different from police insignia stickers. Support stickers are ubiquitous among law enforcement supporters and collectors.
Collecting Police Challenge Coins
Police challenge coins are prevalent among coin collectors since each challenge coin tells a quiet story, and it is considered an honor to own a challenge coin. It might not be easy to get a hold of rare vintage challenge coins, but a wide variety of collectible police challenge coins out there that are easy to collect. The modern police support challenge coins are used solely to show support to law enforcement. They also make unique gifts. These challenge coins are easy to collect and available at reasonable prices.
Police Department Specific Collection
Building a police department specific collection is a time-consuming activity. I would not recommend you do unless you have unlimited tie and budget. It is easier to start a law enforcement memorabilia collection that is not specific to just one department since it is easy to grow and add more items to that type of collection. It is daunting to build a department-specific collection because it will take a lot of time, research, and money to get what you are looking for. Once your collection grows to the right size, then you can start building department-specific collections. That being said, it depends upon the personal situation, such as the time you can spend on finding authentic department-specific memorabilia.
In short, the lessons mentioned above are from my personal experience and should help you anyone looking to start a new hobby of collecting police memorabilia.