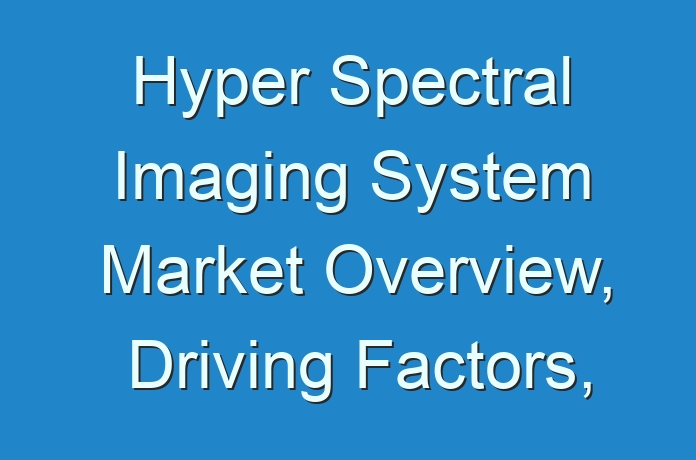 The hyper spectral imaging system (HIS) involves collection and processing of data which is collected across an electromagnetic spectrum. Hyper spectral imaging systems enable obtaining spectrum for every pixel in a particular image or a sequence of images. Information provided by hyper spectral imaging systems has huge data access, which facilitates in the identification of an object. The hyper spectral imaging system are used to find shortwave infra-red (SWIR) spectrum region for providing in-depth information about the composition of a medicine. This is not possible with the help of normal or standard imaging processes.
Considering benefits this technology provides, there is growing adoption of hyper spectral imaging system in the healthcare and medicine industry. The system assists in the diagnosis of numerous life-threatening diseases. Besides this, it is used in detecting oral medical complicacies without drilling or X-rays. While the global hyper spectral imaging system market is forecast to continue benefiting from benefits the system provides across diverse industrial verticals, the cost of acquiring these systems will remain a major bottleneck.
Nevertheless, with technological innovations, reduction is price can be achieved. Price reduction will create lucrative opportunities for the market's expansion in the near future, especially in agriculture and food processing industries. Given the scenario, Transparency Market Research (TMR) projects the global hyper spectral imaging system market to exhibit a CAGR of 8.4% between 2016 and 2024. At this pace, the market's valuation will reach US$18.88 bn in 2024, from US$9.12 bn in 2015.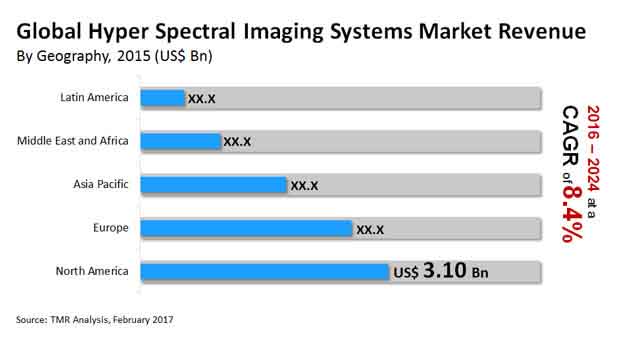 Buy Hyper Spectral Imaging System Market Report Now:
Demand for Outdoor Imaging Systems to Rise at Positive Pace
Based on systems, PC Base, outdoor camera, airborne, and others constitute the key segments in the global hyper spectral imaging market. Of these, the outdoor hyper spectral imaging systems segment emerged dominant in 2015 with a valuation of US$1.61 bn. These systems can be portable tripod mounted or fixed and are considered more rugged than other types of HIS systems. The outdoor camera hyper spectral imaging systems cover 350 to 1700 nm spectral range and are widely preferred in field and defense applications. During the course of the forecast period, the segment is likely to exhibit robust growth.
In terms of end-use industry, the global market has been segmented into military surveillance and homeland security, industrial, medical diagnostics, food processing, mineralogy, astronomy, and others. There is growing preference in usage of hyper spectral imaging systems in the medical diagnostic sector. This will create considerable opportunities for the hyper spectral imaging system market over the next few years. The hyper spectral imaging system enables early detection and treatment of life threatening medical conditions. Furthermore, the increasing application of hyper spectral imaging system in dentistry for the detection of tooth decay and other dental conditions will aid the market's expansion in the coming years.
Asia Pacific Hyper Spectral Imaging System Market to Growth at Greater Pace
Regionally, the global hyper spectral imaging system market can be broadly classified into North America, Asia Pacific, Europe, the Middle East and Africa, and Latin America. Among these regions, North America accounted for the largest market share in the market in 2015, followed by Europe. However, as per TMR Asia Pacific is expected to grow at the fastest rate over the forecast period. Hyper spectral imaging system is finding a wide range of application across a diverse sectors in Asia Pacific. Many leading companies are setting up their manufacturing facilities in the region due to availability of raw material and cheap labor in the region. This is expected to drive the hyper spectral imaging system market in Asia Pacific.
Ask for brochure:
https://www.transparencymarketresearch.com/sample/sample.php?flag=B&rep_id=21251
Some of the key players in the hyper spectral imaging (HSI) systems market are Norsk Elektro Optikk (Norway), Corning Incorporated (U.S.), Applied Spectral Imaging, Inc. (U.S.), Specim Spectral Imaging Ltd. (Finland), Resonon Inc. (U.S.), Telops Inc. (Canada), Surface Optics Corporation (U.S.), Chemimage Corporation (U.S.), BaySpec Inc. (U.S.), Headwall Photonics, Inc. (U.S.), FLIR Systems (U.S.), Teledyne Technologies International Corp (U.S.), and Thermo Fisher Scientific (U.S.).
Read Our Latest Press Release:
https://www.prnewswire.com/news-releases/beyond-customary-energy-and-cost-saving-advantages-both-hard-and-soft-benefits-extend-immense-growth-opportunities-in-building-analytics-market-growth-trajectory-projected-at-stellar-15-cagr-from-2021–2031—tmr-301288910.html