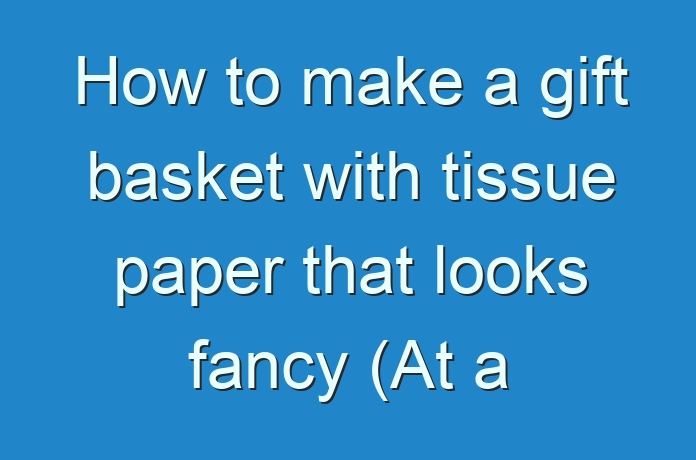 Whether it is a birthday, a marriage occasion, or any special event, a gift can be an excellent presentation for any event. Initially, the facility can be costly when you are giving so many gifts. But if you make yourself a fantastic gift at a low price. It might thank you from the heart. Right?
If you have ever worried about making a gift basket with tissue paper, You can check the Online Gift Canada for making a fancy looking gift basket. Or, this article explains how to make a gift basket look fancy with a homemade guide.
How to Make a Gift Basket that looks fancy
To make a Flourish and adorable gift basket, you should follow below these projects.
A basket / Plastic bag
Prepare Tissue paper
Gift / Place the item in the basket
First Step
The first and most important thing about making a basket Gift is that you don't need everything to sink to your basket's bottom.  You should fill up the basket as high as you think that you need to go.
Pro Tip: You can use the shred. It would look full-fill and give the unique pieces that they are not bumping and rubbing against each other.
Second Step: Prepare the tissue
The tissue is so cheap, but the work can amaze you. When you want to make your gift admirable, I will recommend preparing the tissue for your basket. Let's see how to prepare the tissue.
Initially, You need to take a pack of tissues that you can get from any store. After picking the tissue, you should consider color. Try to think of two-color, not less or more.
After taking the tissue properly, it's time to prepare the tissue for the basket. What needs to do with this? You just have to fold this in half and just cut right down in the middle. After that, you will end up with the sheets cut in half and just fold into third. You don't have to be super perfect. You just need to get a score mark; it doesn't matter; it is perfect or not. Once you have the line marked out, you need to open it up and then cut it into third.
At this time, all you have to do pinch somewhere near the center of folded tissue and give it a little shake. You can get it, and you can just fix it up a little bit. It's easy, as well as worthy.
The ultimate step: Place the item in the basket
It's time to place all of your items in the basket. When you place the thing, you should consider the taller thing to keep in the back. It will give you support and end stability.
Advance step: Cute adornment
Lastly, if you want to make your gift basket more admirable, you should use some adornment such as a flower. You can also add the flower and place and stick in the basket to make the container honorable.
I hope you enjoyed the guide on making a gift basket with tissue paper that looks fancy. The best thing making the basket admirable is using your imagination if not just copying my step-by-step process.