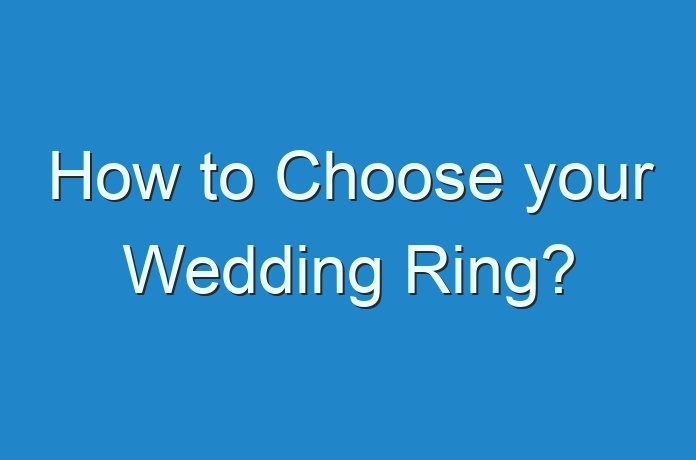 Is the time finally come to choose your wedding rings? Yes! But what are you paying attention to? We'll tell you everything you need to know about choosing your wedding rings!
Choosing wedding rings: the time has finally come! Wedding rings come in all shapes and sizes, but what exactly should you keep in mind when figuring out the most important bling of your life? Of course you can randomly scour all the jewelers in the area looking for the perfect wedding ring, but it is more convenient if you already know what you want. And by 'you' we mean you, because of course you have to want to wear his ring too! Choosing wedding rings becomes a lot easier after reading this article.
Choosing wedding rings, where do you Start?
Are the preparations for your wedding in full swing? Don't forget the wedding rings! Before you start selecting wedding rings, it is handy to consult a little in advance. Do you want a wedding ring set or do you both want something different? It is also not wrong to read a little about the different materials, shapes and stones. And hey, let's tell that in this article too! So, don't stop reading. Also discuss what you absolutely do not want and see if you are a bit aligned. Otherwise, take a look at the examples of camo wedding rings! A good start is half the work.
Where are you going to pick out your wedding rings? 
So, now you already have a little idea about your beloved wedding rings. But where are you going to pick out those wedding rings? You have three options: from a jeweler, a goldsmith or a wedding ring specialist. Still looking? Find a jeweler near you here! Get well informed and advised at your chosen jeweler, goldsmith or wedding ring specialist, try on different rings and be honest, because you will wear your wedding ring for the rest of your life!
When should you start searching?
Choosing wedding rings is not a last-minute job. So start on time. Of course it would be best if you immediately find your dream rings. Sorry to get you out of this dream, because that doesn't happen often … So start orienting on the wedding rings six to eight months before the wedding. In addition, you must take into account a delivery time of two to six weeks.
Selecting materials for wedding rings
Many wedding rings are made of precious metal, and for good reason: precious metal keeps looking beautiful and does not rust. Quite important, since hopefully you have to do with a wedding ring all your life! In addition to precious metal, non-precious metals such as steel are also used today. The choice of material is an important first choice, because this largely determines the appearance of your wedding ring! Therefore, the most used materials for wedding rings at a glance, so that you make the right choice when selecting rings.