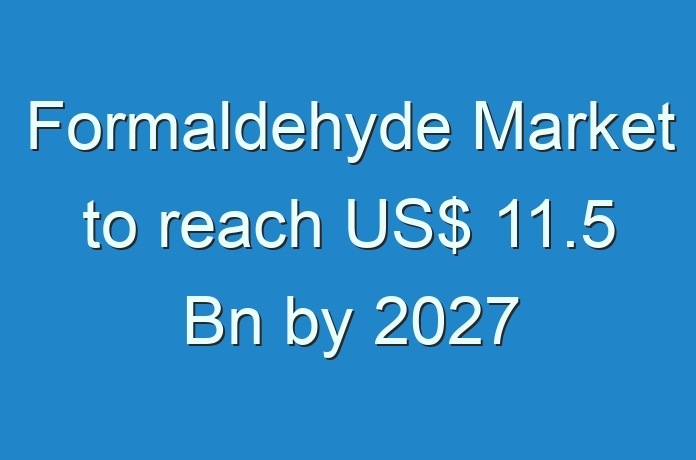 Demand for Formaldehyde Continues to Grow Despite Adverse Effects on Health
Ever since its discovery in 1859, formaldehyde has emerged as one of the most critical ingredients used to develop a broad range of household products, such as medicines, cosmetics, antiseptics, etc. Owing to consistent research and development, the adoption of formaldehyde across an array of end-use industries continues to grow at a rapid pace. At present, formaldehyde is increasingly being used to manufacture paper, resins, and fertilizers. Some of the most prominent end-use industries of formaldehyde include building & construction, automotive, agriculture, chemical, and cosmetics. Despite the growing demand for formaldehyde, mounting concerns over the catastrophic effects on health due to exposure to formaldehyde could impact the growth of the formaldehyde market during the forecast period (2019-2027).
Stringent regulations coupled with a high focus toward improving workforce safety, particularly in the developing regions including the Asia Pacific are some of the other factors that are likely to influence the demand for formaldehyde in the near future. Despite these potential barriers, as formaldehyde is predominantly used as a building-block material, there are very few compounds that could potentially replace it as a raw material. Moreover, owing to the versatile and favorable chemical properties of formaldehyde, the demand for the same is set to move in an upward trajectory during the assessment period. Owing to these factors, the global formaldehyde market is projected to reach a market value of ~US$ 26.3 Bn by 2020.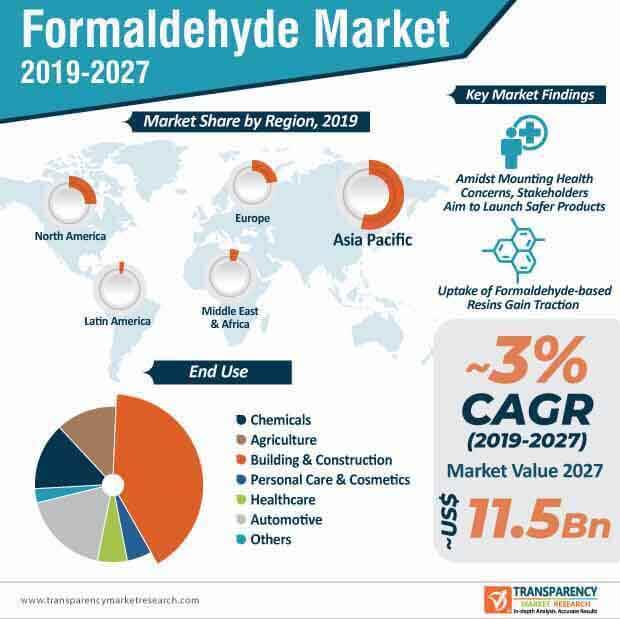 To gauge the scope of customization in our reports Ask for a Sample 
Improvements in Formaldehyde Chemistry to Propel Demand for Formaldehyde-based Resins 
Formaldehyde chemistry has played an imperative role in the development and adoption of composite panel products. While focus toward the production and usage of sustainable products continues to grow at a blazing pace, recent progress in formaldehyde chemistry offers immense promise as far as the production of sustainable wood products is concerned. The adoption of formaldehyde-based resins and glues is projected to gain momentum during the assessment period, as they enable the combination of sawdust, wood chips, and recyclable wood to produce composite wood products, including fiberboards that are used in furniture, cabinets, and a host of other applications. The growing adoption of formaldehyde-based resins has significantly improved the rate of wood utilization and played an important role in minimizing wood waste.
Get an idea about the offerings of our report from Report Brochure 
At present, due to the lack of alternative resins that offer the desired technical performance in terms of costs and versatility, the demand for formaldehyde-based resins is projected to grow at a steady pace in the coming years. Within the formaldehyde market, resins application segment is expected to hold the highest market share during the forecast period. Furthermore, it is projected that nearly 10,161-kilotons of formaldehyde resins worth ~US$ 3.3 Bn will be manufactured in 2020.
Urea and Phenol-formaldehyde Resins to Witness High Adoption
Urea-formaldehyde resins have garnered significant popularity in recent years, and are increasingly being used to produce paper, textiles, cotton blends, rayon, wrinkle-resistant fabrics, etc. Furthermore, the demand for urea-formaldehyde resins is expected to gain significant momentum, owing to its favorable properties such as high reactivity, economical pricing, and exceptional performance. Urea-formaldehyde resin derivative segment is expected to reach a market value of ~US$ 2.3 Bn and hold a market share of ~26% in 2020. While urea-formaldehyde resin segment is likely to be at the forefront in terms of market share and value, phenol formaldehyde resin segment is likely to gro significantly in the formaldehyde market.
Phenol formaldehyde or phenolic resins were predominantly used in wood processing, laminate and plywood. However, due to significant advancements within the formaldehyde market, in the current scenario, PF resins are widely being used in various applications, including aerospace, automobile, etc. The optimum mechanical properties, highly stable molding processing performance, exceptional ability to retard flames, and low cost are some of the factors that have influenced the adoption of PF resins. Over the past few years, focus on the development of PF resin-based composite materials by enhancing the mechanical properties and synthesis process has gained notable traction. phenol formaldehyde resin segment is projected to reach a market value of ~US$ 1.7 Bn and account for ~19% of the total share of the formaldehyde market by the end of 2020.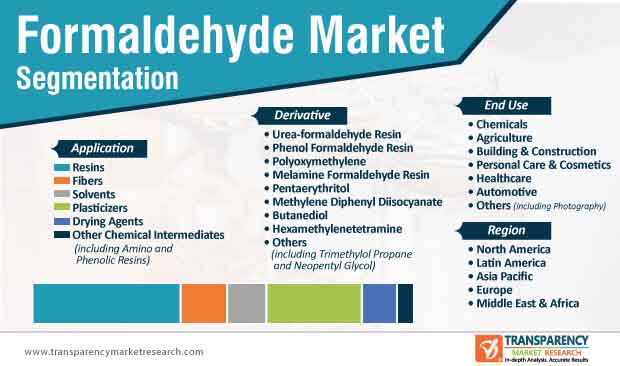 Looking for Regional Analysis or Competitive Landscape in Formaldehyde Market, ask for a customized report
Analysts' Viewpoint
The formaldehyde market is expected to expand at a CAGR of ~3% during the forecast period. Despite stringent regulations pertaining to the use of formaldehyde, the uptake of formaldehyde is expected to be driven by the growing adoption of urea-formaldehyde and phenol formaldehyde resins. UF and PF resins segments are on course to account for major share of the formaldehyde market, in terms of volume and value, during the forecast period, owing to favorable physical and functional properties– making them an ideal choice for an array of applications in different end-use industries. Stakeholders in the formaldehyde market are expected to focus on lucrative opportunities in the U.S., Europe, and China, wherein the demand for wood-based panels is growing at a considerable pace.  
Formaldehyde Market: Overview
Methanol is the primary raw material used in the formulation of formaldehyde. Formaldehyde is an important component used in the production of urea-alkyd resins, which has applications largely for the output of binding materials for particle boards and medium density plywood. Formaldehyde is widely used in various industries such as plywood, automobile, and construction.
Growth of the building & construction industry, and continuous demand from the furniture sector are driving the formaldehyde market. Formaldehyde is primarily used to produce wood panels and adhesives. Formaldehyde based resins are used by the construction and furniture sector due to their good adhesive strength and moisture resistance properties.
Key Growth Drivers of Formaldehyde Market
Formaldehyde is extensively employed in various end-use industries such as building & construction, chemical, agriculture, personal care & cosmetics, health care, and automotive
Formaldehyde is considered as one of the most important industrial and research chemicals. The property of formaldehyde to chemically react and subsequently build resilient structures makes it one of the important chemicals for building blocks in the manufacturing furniture, and construction sector, due to its strength and moisture resistance. Formaldehyde-based resins also provide better dimensional stability and mold resistance. Thus, increasing demand from these sectors is expected to drive the formaldehyde market during the forecast period.
Formaldehyde is also used in the production of vaccines, disinfectants, and personal care products such as toothpastes and mouthwash due to its excellent antibacterial properties. Rising demand from these applications is projected to boost demand for formaldehyde.
More Trending Reports by Transparency Market Research – https://www.prnewswire.co.uk/news-releases/plastic-antioxidants-market-to-reach-us-1-4-bn-by-2027-massive-growth-potential-and-robust-cagr-aids-the-influx-of-new-players-in-global-market-tmr-822002147.html
 Major Challenges for Formaldehyde Market
From June 1, 2018, and until March 22, 2019, finished products, which contain composite wood panels that were manufactured or imported into the U.S. needed to be certified in compliance with the TSCA Title VI or the California Air Resources Board (CARB) Airborne Toxic Control Measures (ATCM) Phase II emission standards. The compliance should be certified by a third-party certifier (TPC), and approved and recognized by CARB and EPA. These regulations are expected to hamper the production of wood based panels, which in turn is expected to hinder the growth of the formaldehyde market.
The European Union has adopted a directive that states that maximal concentration of 0.2% by weight or volume of formaldehyde and paraformaldehyde should be used in cosmetics. These substances are permitted in all cosmetic formulations except nail hardeners and oral hygiene products. Additionally, labels of cosmetic products are required to list formaldehyde and paraformaldehyde as ingredients when the concentration of either exceeds 0.05%. These regulations are expected to hinder the growth of the formaldehyde market.
 Lucrative Opportunities for Formaldehyde Market
Formaldehyde-based resins are widely employed to produce wood-based panels. These resins are used to bond wood particles so they can be pressed to the board shape. Formaldehyde is also employed as adhesive in lamination lines. Moreover, it is used to bond the impregnated paper to the raw board in order to produce laminated boards Increasing use of formaldehyde in these applications is expected to provide opportunities during the forecast period.
Asia Pacific to Dominate Formaldehyde Market
In terms of volume, Asia Pacific held a leading share of the formaldehyde market in 2018.This can be attributed to constant expansion of the automotive and building & construction sectors across the region. Furthermore, growing population, expanding middle class, and increasing disposable income of consumers across the region is expected to drive the building & construction sector. This, in turn, is likely to boost demand for formaldehyde, as it used as adhesives in the construction sector.
Extensive Usage of Formaldehyde is Production of Resins
In terms of volume, resins application segment held a major share of the formaldehyde market in 2018. Formaldehyde is extensively used in the production of resins such as urea formaldehyde resin, phenol formaldehyde resin, and melamine formaldehyde resin. This is expected to boost the demand for formaldehyde during the forecast period.
Formaldehyde-based resins are utilized in the building & construction sector due to their properties such as high tensile strength, scratch resistance, high heat distortion temperature, low water absorption, mold shrinkage, high surface hardness, and low cost
Formaldehyde-based resins are used in the textile industry to help binding of dyes and pigments to fabrics and prevent colors from running when clothes are washed
Request for covid19 Impact Analysis – https://www.transparencymarketresearch.com/sample/sample.php?flag=covid19&rep_id=1367
Leading Players Actively Engage in Joint Ventures and R&D Activities
The formaldehyde market is fragmented, with the presence of a few large-sized players and large number of small players operating in China
The formaldehyde market is dominated by BASF SE, Hexion Inc., PJSC Metafrax, and Ercros S.A. The four companies cumulatively accounted for 25% share of the formaldehyde market in 2018.
On April 9, 2019, Dynea AS announced a contract of 100 KTA for a formaldehyde plant with PJSC Metafrax, at Gubakha, Perm, Russia
In November 2016, Celanese Corporation announced increase in prices of formaldehyde (50%) by US$ 0.020 per pound and formaldehyde (37%) by US$ 0.015 per pound