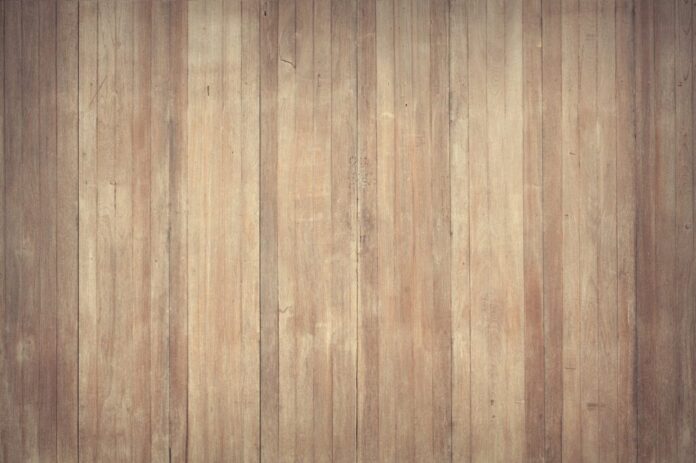 Global Flooring Market: Key Highlights
The global demand for flooring stood nearly US$ 274 Bn in 2018 and is projected to reach over US$ 473 Bn by 2027.  Economic gains in developing regions such as Asia Pacific, Latin America, and the Middle East have driven the need for urbanization. Increase in population and growth in urbanization are expected to boost the demand for housing. This is anticipated to pave the way for extensive commercial construction activities such as hotels, offices, and shopping plazas. This is one of the key drivers of the flooring industry.
Floor covering is a term used to describe any layer of finish material applied over a floor structure to provide permanent covering. Common flooring materials are vinyl sheet & tiles, carpets & rugs, laminates, natural stone, wood, ceramic tiles, and rubber. Resilient, non-resilient, and soft cover types of flooring materials are used based on the type of the application.
The building remodeling industry is one of the major end-users of flooring products. Increase in remodeling activities in mature economies in North America and Europe is likely to drive flooring market in the next few years.
However, toxic chemicals are used for the manufacture of carpets in the textile industry. Volatile residues have been found in vinyl flooring products. This may lead to several health issues. Increase in concern about the environmental impact of flooring products among consumers is one of the key factors projected to hamper the flooring market during the forecast period.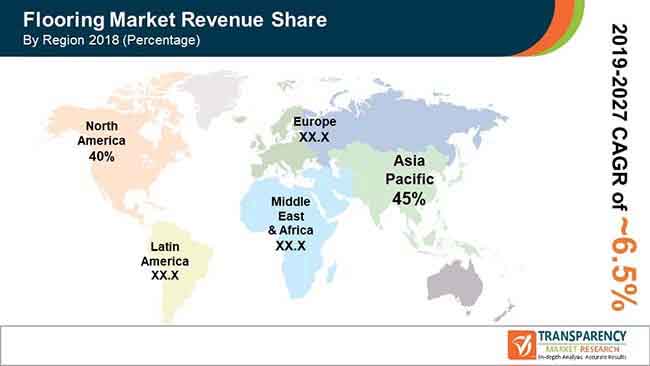 To gauge the scope of customization in our reports Ask for a Sample
Global Flooring Market: Segmental Insights
Demand for luxury vinyl tiles has been rising at a faster rate vis-à-vis that for hardwood or engineered wood products owing to its added value attributes such as scratch and slip resistance, waterproof, and eco-friendliness.
Ceramic tile accounted for more than 40% share in global flooring market in 2018. These tiles are known for durability, water resistance, stain resistance, esthetic design, and flexibility. China, Brazil, and India are the major countries in terms of consumption of tiles.
Carpets & rugs is also a prominent form of flooring in various parts of North America and Europe. Carpets and rugs offer easy installation, easy maintenance, and are available in various design patterns.
Wood flooring is generally more expensive; however, it offers advantages such as durability, wide esthetic appeal, and environmental sustainability. Wood flooring is environmentally sustainable, as wood is a renewable resource.
Non-resilent flooring is anticipated to grow at a decent pace due to the constant growth of LVT and its sub category WPC/rigid core. Decline in demand for laminate flooring due to water and noise issues has boosted WPC and rigid core products.
The residential segment accounted for a major share in global flowing market in 2018. The continuing recovery in the construction industry in many countries after several years of recession is expected to boost demand for flooring products. Resistance to high temperature and hazardous chemicals are the key factors positively influencing flooring products.
Get an idea about the offerings of our report from Report Brochure
Global Flooring Market: Regional Insights
Asia Pacific dominated the global flooring market in 2018 with more than 45% market share in terms of volume.  The real estate industry in this region is expanding rapidly due to shift in government focus toward infrastructure development. Beneficial regulations along with rising population are making the region highly attractive for the flooring market.
Europe is likely to be an attractive region of the flooring market, despite strict regulations on products such as PVC and other laminated flooring coverings that cause VOC emissions
The flooring market in Middle East & Africa is expected to expand at a rapid pace during the forecast period, owing to increasing demand for flooring from several large-sized construction projects
Demand for flooring with the appearance of wood is high in North America. Hence, manufacturers of vinyl flooring and tiles have developed products that mimic the design and appearance of wood. Demand for these products is rapidly increasing in the flooring market in North America.
Looking for Regional Analysis or Competitive Landscape in Flooring Market, ask for a customized report 
Global Flooring Market: Competition Landscape
Some of the key players in the flooring market include

Mohawk Industries Inc.
Shaw Industries Group Inc.
Tarkett Group
Boral Limited
Armstrong World Industries, Inc.

Other players include

The Dixie Group
Toli Corporation
FORBO
Interface, Inc.
Congoleum Carporation
Avant Flooring
James Hallstead Plc
Mannington Mills, Inc.
J&J Flooring Group LLC,
Gerflor.

Companies are focusing on efficient and well-developed planning and designing. They are investing in developing new products that are eco-friendly and recyclable.
Adoption of online and offline marketing strategies as means of raising awareness regarding their quality products is also expected to help them strengthen their footprint in the market.
In March 2018, Interface Inc. introduced a new global luxury vinyl tile (LVT) collection, Native Fabric, expanding its modular resilient flooring offerings. Native Fabric offers a modern take on the timeless grass cloth design in a variety of shades infused with a woven metallic threading.
In January 2018, Tarkett Group acquired the assets of Grassman, a leading Australia-based synthetic turf manufacturer, through its FieldTurf subsidiary
In January 2017, Armstrong World Industries, Inc. Completed the Acquisition of Tectum, Inc. Tectum, Inc is an Ohio-based manufacturer of acoustical ceilings, walls, and structural solutions for commercial building applications.
Request for covid19 Impact Analysis –  https://www.transparencymarketresearch.com/sample/sample.php?flag=covid19&rep_id=3813