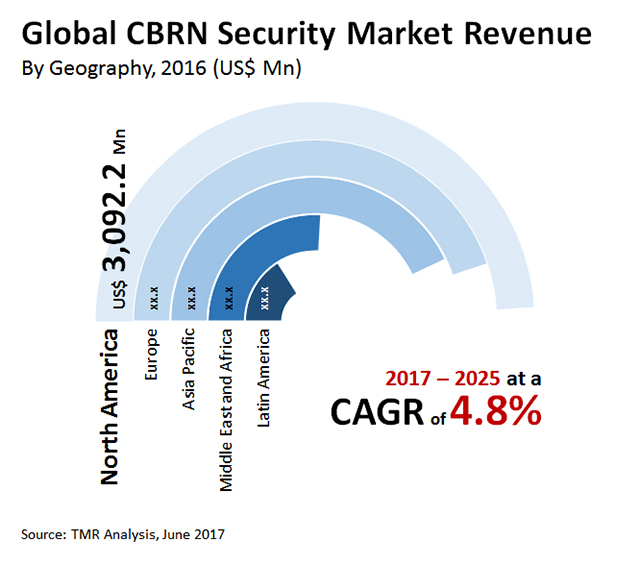 Global CBRN Security Market: Snapshot
The global chemical, biological, radiological, and nuclear (CBRN) security market is rising at a steady pace globally as demand for effective CBRN protection measures to combat terrorist attacks is at an all-time high. The threat of use of weapons of mass destruction by terrorist organizations have raised alarms to prevent possible attacks with CBRN systems. CBRN security is a rising market to address concerns related to protecting civilian lives and maintenance of economic stability.
In addition, CBRN systems are used for accidental incidents. These include events caused by human or technological errors such as accidental leaks or factory spillage of poisonous gas or liquids. Intentional CBRN incidents occur when CBRN materials are released into the environment with the intention of terrorism or war or when hazardous material is discharged into the environment deliberately.
Get Sample Copy:
https://www.transparencymarketresearch.com/sample/sample.php?flag=S&rep_id=6475
One of the key factors driving the CBRN security market is increasing demand for CBRN security in developing countries such as India, China, and Brazil among others. In addition, African nations are expected to continue spending incessantly on CBRN surveillance systems to mitigate rising CBRN threats such as Ebola in the regaion. With continual technological advancements and increasing research initiatives worldwide, new-age CBRN security equipment are launched that primarily focus on government organizations, military, and law enforcement agencies.
Transparency Market Research estimates the global CBRN security market to be worth US$15074.8 mn by 2025 increasing from US$9890.0 mn in 2016, expanding at a CAGR of 4.8% between 2017 and 2025.
Nuclear Security Type Segment Enjoys Dominant Share in Market
In terms of type, the global CBRN security market has been segmented into chemical, biological, radiological, and nuclear security. The nuclear segment, among these, is the most attractive segment with the segment holding 33.8% of the overall market in 2016. Demand for nuclear security segment is rising globally at a very high pace due to congressional mandates and international laws that restrict the use of nuclear weapons. Additionally, the segment of chemical security is gaining importance among military and law enforcement agencies due to evidence of procurement of chemical agents by terrorist organizations to develop weapons of mass destruction.
By function, the global CBRN security market is segmented into protection, detection, decontamination, and simulation. The protection segment in CBRN security market held the leading share of 33.6% in 2016. The leading share of the segment is due to increasing military expenditures. Detection segment stood as the second-leading segment in the market in the same year.
Grab an exclusive PDF Brochure of this report:
https://www.transparencymarketresearch.com/sample/sample.php?flag=B&rep_id=6475
Asia Pacific to Emerge as Significant Market in Near Future
The geographical segments into which the global CBRN security market is divided are North America, Asia Pacific, Europe, the Middle East and Africa, and Latin America. North America stood as the leading regional segment in 2016 and is expected to retain supremacy over the forecast period between 2017 and 2025. The increasing threat of terrorist attacks and the rising applications of radiopharmaceuticals in medical treatments are boosting the demand for CBRN security systems in North America.
However, Asia Pacific is expected to rise at the leading CAGR of 5.4% between 2017 and 2025. Increasing defense budgets that includes adoption of CBRN security systems is one of the key factors boosting growth of this regional market.
Key players in the global CBRN security market include Survitec Group, Tingley Rubber Corporation, W.L. Gore & Associates Inc., MKU GmbH, Blücher GmBH, 3M Company, Respirex International Ltd, Alaska Structures, Honeywell International Inc., and ILC Dover, Argon Elecronics Ltd, FLIR Systems Inc., HDT Global, AirBoss Defense Inc., MSA Safety Inc., General Dynamics Corporation, Bruker Corporation, Thales Group, and Kärcher Futuretech GmbH among others.
Buy Complete [email protected]:
https://www.transparencymarketresearch.com/checkout.php?rep_id=6475&ltype=S
Growing Complexity of Modern Warfare to Open New Vistas in Chemical, Biological, Radiological and Nuclear (CBRN) Security Market
Policy makers have risen to the reality of chemical, biological, radiological, and nuclear (CBRN) attacks, both from state as well as non-state actors. The growing demand for new response frameworks to address these concerns is the key driver for the evolution of new systems in the CBRN security market. Industry players have worked in collaboration of various industry players to devise effective response frameworks, Rise in use of CBRN attacks in terrorism has spurred investments and interest in strategies in CBRN security market. The growing use of hazardous chemicals to lay out hoax calls or to carry out terrorist attacks is becoming popular. There is a growing focus on multifaceted strategies that take care of diverse elements to achieve resilience in chemical, biological, radiological, and nuclear security hacks. A wide range of systems such as supply chains, chemical manufacturing units, and air handling systems have seen the onslaught of CBRN attacks, propelling the need for advanced surveillance technologies for CBRN security. The rise in new strategies by security specialists has enabled these technologies meet the diverse objectives in the CBRN security market.
During the times of Covid-19, when governments around the world were intensely engaged in managing the repercussions of health pandemics and morbidity of the virus, CNRN warfare has gathered steam. Nefarious elements make extensive plans to implement emergency shutdowns by harming CBRN systems of nations. Hence. CBRN security market has made strides on the back of maintaining international peace and security. Also, biological warfare is no more considered as a thing of future, with non-state actors staging new disruptions to test the ramifications of such events. Also, growing attention on weapons of mass destruction has spurred pilot projects aimed at protecting critical infrastructures and preventing access to CBRN materials, which has expanded the horizon for industry investments in the CBRN security market.
Read Our Latest Press Release:
https://www.prnewswire.com/news-releases/oems-in-automotive-electric-power-steering-market-leverage-motor-control-technologies-to-meet-safety-in-next-gen-automotive-tmr-301237338.html