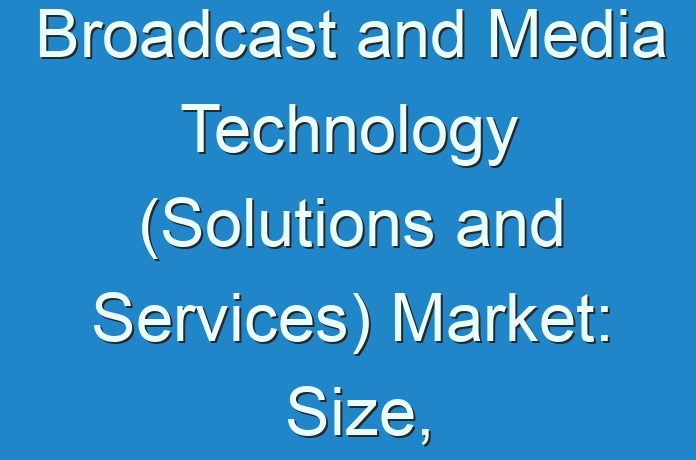 Broadcast and Media Technology (Solutions and Services) Market: 5G Technology Proliferation and Increasing Number of Platforms for Broadcasting and Media to Boost Growth
As the world gets closer and more connected, advancements in communication are being majorly witnessed. As broadcast businesses aim to provide seamless communication to consumers, worldwide, the broadcast and media technology (solutions and services) market is likely to witness major transformations in the coming years. Content consumption through next-gen connected devices continues to increase, offering content in an enhanced experience. Such changing content consumption patterns are being addressed with new broadcasting and media technologies.
Telling stories with technology is becoming mainstream, as companies continue to incorporate next-gen technologies in the process of offering broadcast and media solutions and services. Transparency Market Research (TMR), in its recent publication, analyzes the key dynamics of the broadcast and media technology industry, from changing consumer preference for faster networks, transformations in broadcasting and media channels, to continual developments made in a bid to offer quick-paced and seamless broadcasting.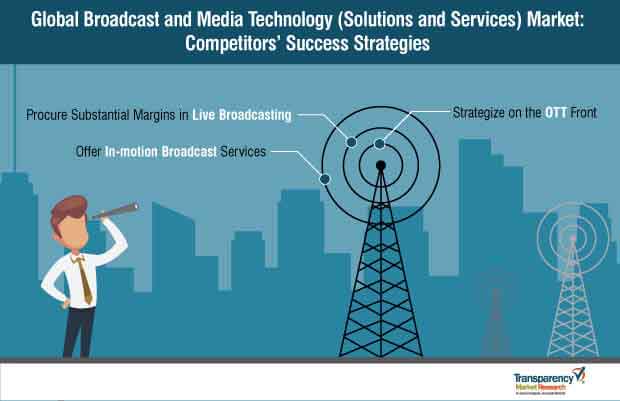 You will get Custom Report at Syndicated Report price, Buy Now
Evolutionary Path of the Broadcast and Media Technology (Solutions and Services) Market
The emerging broadcast and media technology ecosystem has an incremental growth cited deeper in history. The radio was the first media form, and had a huge impact on the history of the 20th century, and allowed the first-ever information broadcast without wires. Following this, the 1920s marked the beginning of the television era. As it combined the best attributes of radio and pictures, and changed media, television has captured the imagination of audiences ever since its inception.
The invention of cable TV in the 1980s along with the expansion of the Internet in the 2000s offered more alternatives for media consumers.
Technological revolutions became a nexus between historical broadcast and media and the changing communication expectations. With the evolution of technology, audiences' needs and expectations continued to grow. Broadcasting has undergone a slew of transformations, with satellite, cable, and on-demand irreversibly altering consumer viewing habits. However, recently, the mobile is beginning to transform the face of broadcast and media. Another aspect driving the current broadcast and media technology business is the continued development and incorporation of technology to offer improved broadcasting to consumers. The broadcast and media technology (solutions and services) market is likely to generate a revenue of ~ US$ 6.3 Bn in 2019. Market growth is attributed to key trends, including the growing penetration of on-demand content, popularity of live video streaming, rise in digital advertisements, and emerging network infrastructure.
Get More Press Releases by TMR: prnewswire.com/news-releases/plastic-corrugated-packaging-market-expands-scope-of-businesses-in-ecommerce-industry-to-deliver-sustainable-packaging-solutions-tmr-301200091.htmll
Want to know the obstructions to your company's growth in future? Request a PDF sample here
Key Trends Influencing the Market
Block Chain and AI making Inroads in Broadcast 
As consumers are becoming tech-savvy, broadcast and media technology (solutions and services) providers are leveraging cutting-edge technologies to improvise broadcast and media technology solutions and services. With the utilization of artificial intelligence and algorithms that offer better, more targeted recommendations, broadcasters would be able to offer a better user experience. Companies look to develop block-chain-based business models to solve potential issues pertaining to the industry, including combating piracy, securing royalty payments, and managing digital rights.
Rising Penetration of Smartphones
The era of well-designed data and voice packages along with enticing purchase offers have propelled the utilization of smartphones. Moreover, the increasing use of the Internet, and the growing access to media and video streaming have further accelerated the growth of the broadcast and media technology (solutions and services) business.
Emergence of 5G Technology
The latest 5G network infrastructure is likely to disrupt the broadcast and media technology (solutions and services) landscape. Users would be able to communicate in remote as well as crowded areas with high-speed broadband, promoting on-demand media from any device or location. 5G would maximize consumer experience, for both, indoor and outdoor connectivity.
Despite the positive influence of the aforementioned trends, the broadcast and media technology (solutions and services) market is likely to face challenges on account of the disparity in regulations of governments of different countries.