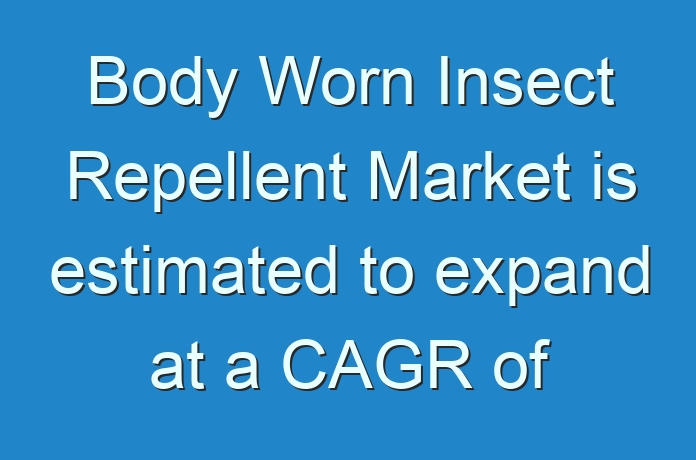 According to the latest market report published by Transparency Market Research on the body worn insect repellent market for the period 2020–2030 (wherein 2021 to 2030 is the forecast period and 2020 is the base year), rising health awareness about insect-borne diseases across the globe is expected to drive the body worn insect repellent market
Globally, revenue generated by the body worn insect repellent market accounted for ~US$ 400 Mn in 2019, which is expected to expand at a CAGR of ~8% in terms of value throughout the forecast period
Rising Health Awareness about Insect-borne Diseases: A Key Driver of Body Worn Insect Repellent Market
Rising health consciousness among people with increasing literacy rate in developing countries is encouraging users to opt for quality insecticide products. Besides, NGOs, government authorities, as well as community service groups are continuously creating awareness among people about maintaining cleanliness and a disease-free environment.
Moreover, people are less tolerant about pests and insects in their surroundings. Accordingly, rising health awareness is expected to drive the body worn insect repellent market.
Stuck in a neck-to-neck competition with other brands? Request a custom report on Body Worn Insect Repellent Market 
Increasing Insect-borne Diseases and Industrial Applications Driving Global Market
A considerable increase in death rates due to insect borne diseases such as malaria, dengue, and Zika is being seen. Furthermore, according to the WHO, yearly estimation of dengue infections are around 390 million, spreading across 100 countries.
Insect repellents offer protection from bites from mosquitoes, ticks, fleas, chiggers, and biting flies. Thus, the yearly rise in insect-borne diseases helps insect repellent manufacturers to produce personal care products to be worn on the body, resulting in less skin hazards.
Around 36.3% of the GDP comes from industrial as well as the agriculture sector globally. Additionally, the major portion of global labor force comes from agriculture and industrial sectors. These workforce groups are mostly engaged in offshore or outdoor activities. Hence, they need to be protected from insect bites to ensure health safety. Companies ensure the same voluntarily or through compliance regulations.
Besides, some manufacturers offer Flame Retardant (FR) clothing with insect repellent finishing. For, instance, Insect Shield Company provides insect repellent apparel catering to diverse industries such as mining, oil & gas, and forestry.
Significant Opportunities for Body Worn Insect Repellent Market
Governments and NGOs are actively participating in spreading awareness among the masses and rural population due to improper waste management as well as lack of knowledge about hygiene
Companies are participating in these campaigns to create awareness about insect-borne diseases and risks associated with these diseases. Though these campaigns are a part of CSR activities, participation with large scale government projects aids in creating brand awareness about diverse insect repellent products. For instance, Godrej Consumer Products showcased its active participation with government projects to eradicate deadly diseases such as Dengue, Chikunguniya, and Zika, caused by mosquito bites.
Large conglomerate companies are planning to expand their product range and presence in various geographies through mergers & acquisitions and tie-ups with local players having presence in the body worn insect repellent market. Key players make it a point to ensure that the diverse body worn insect repellent products are made available through online platforms, specialty stores, etc.
To understand how our report can bring difference to your business strategy, Ask for a brochure
Insect Shield Technology in Body Worn Insect Repellent Industry: Key Trend of the Market
Most users of body worn insect repellents participate in outdoor recreational activities such as camping, trekking, adventure sports, and climbing. Additionally, people involved in defense and environmental research & studies prefer body worn insect repellent products to be safe from insect bites.
Protective aids such as body worn repellent sprays, oil, creams, and apparel are needed while performing such activities to remain safe from insect bites that may harm the body
Consumers are becoming aware about health & safety and the usage of protective aid to prevent insect bites that may cause harm
Shift in consumer preference is seen toward natural body worn insect repellent products over DEET based products that may cause health issues due to toxic chemicals
Body Worn Insect Repellent Market: Competition Landscape
Detailed profiles of players of body worn insect repellents have been provided in the report to evaluate their financials, key product offerings, recent developments, and strategies
Key players operating in the body worn insect repellent market include

Reckitt Benckiser Group Plc
Godrej Group
Insect Shield, LLC,
Tender Corporation
Spectrum Brands Holdings, Inc.
.C. Johnson & Son, Inc.
Read Our Latest Press Release:
https://www.prnewswire.com/news-releases/covid-19-pandemic-to-have-a-profound-impact-on-the-growth-of-the-quick-service-restaurants-it-market-varied-applications-to-play-a-key-role-in-the-seamless-functioning-of-quick-service-restaurants-says-tmr-301307903.html