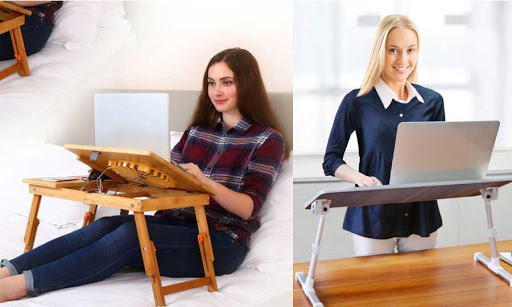 A folding table is almost the most sold furniture in the market. The foldable tables are so comfortable to use, they have different uses and their advantages exceed those of normal tables.
Picking a foldable table from the market is, you might think, easy. But it certainly isn't. There are many features to look at while picking out the best foldable desk.
Some of the main features are as follow:
1. Durability: The first and foremost thing to look at while picking a foldable table is durability. Rather than buying a complete wood table, it is better to buy a steel/wood mixture as the surface would be wood but the legs would definitely be steel which can last longer.
2. Table Weight: Buying or purchasing a table that weighs more than your bed is not a wise choice. Make sure to purchase a table that doesn't weigh too much so that it becomes immobile.
3. Leg attachments: Make sure the legs of the table that you are interested in purchasing to have a sturdy attachment to the surface, as they will be constantly folded and unfolded which might break them off if they are not of good quality.
4. Edge and Corners: It is proven that a table with rectangular shaped corners are impact-resistant, meaning when they are accidentally dropped or they fall, there would be next to no damage done on the table.
5. Easy to maintain: If a table gets dirty easily or the surface paint or coverage comes off, is it really worth the purchase? Not really, a table should be able to be cleaned easily with stain resistance and the surface shouldn't come off easily.
6. Warranty: In this type of furniture, one must make sure the manufacturers are offering a good warranty that lasts up to at least a couple of years.
7. Shape and Size: Not every space requires a circular table, while not every corner looks good with a square table. You must take into consideration where they are placing the table and which shape and size would suit the best.
Advantages:
The foldable furniture, whether it be beds, mattresses, chairs or tables, are very popular nowadays. They hold much more advantage over those of standard furniture. Many business firms, officers and enterprises often look for these types of furniture when the thought of mass ordering comes on the page. Other than firms and establishments, many households and families search for foldable furniture too as these are chicer and technologically advanced.
Other than their natural features, they require less space and can be placed anywhere, they are also easily mobile and whenever a need for a style change in the home is on the talk, not many muscles are required to shift the furniture.
But the people who require this furniture mostly are event organizers. As they are constantly setting up and taking down the decorations and styles and the mobility they need. Standard furniture would wear off or break away too easily which can cost a fortune for the organizers. Overall, foldable furniture is really famous and would be even more in the near future.