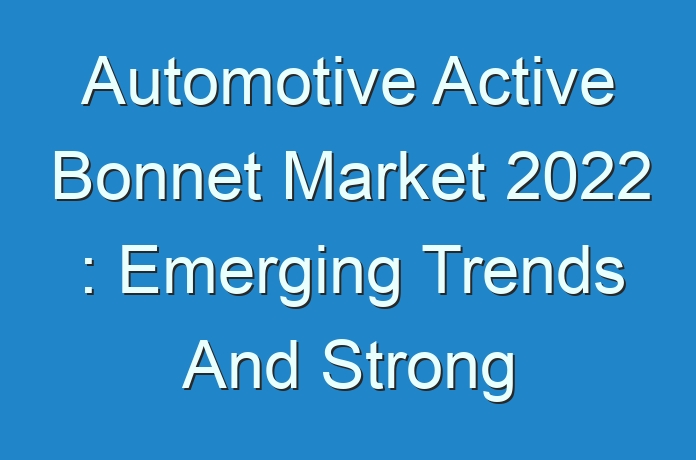 An active bonnet in a vehicle is designed to mitigate shock to the pedestrian's head in case the vehicle collides with a pedestrian. It is designed to activate with a pre-defined speed range. The active bonnet system causes the rear end of the bonnet to pop up in case of an impact that exceeds a certain threshold is detected. This creates a shock-absorbing space between the bonnet and the engine, which in turn reduces the impact force in case a pedestrian bumps into a running vehicle.
These active bonnets utilize energy absorption materials in the front-end of the vehicle. In case of a frontal collision, when the grille hits the pedestrian's knees, the energy absorbing material mitigates the severity of the pedestrian's knee injuries.
The active bonnet system also employs a stiffening reinforcement, which is placed at the bottom of the bumper. This is intended to prevent the pedestrian's leg from going under the vehicle. The shape of the bonnet is specifically designed to reduce the damage to the pedestrians' knees in case of a collision.
Are you a start-up willing to make it big in the business? Grab an exclusive PDF Brochure of this report
Automotive safety rating is fueling global automotive active bonnet market
Various safety features are available in the automotive market for vehicle manufactures to install in their vehicles. For instance, curtain airbags, anti-theft systems, drunk driver detection system, active bonnet system, and driver fatigue monitoring systems are aimed to increase the safety of occupants as well as pedestrians, cyclists, and other vehicles.
Rising concerns about vehicle safety across the world have mandated vehicles to go through safety programs such as the New Car Assessment Program (NCAP)
 The Australian New Car Assessment Program (ANCAP) and Euro NCAP have included automotive active bonnet under their rating parameter. These stringent rating parameters are likely to be accepted by other countries in the world. This, in turn, is propelling the global automotive active bonnet market.
Asia Pacific to dominate global automotive active bonnet market
Government initiatives to increase safety of pedestrians, cyclists, and bikers have led to the enactment of various legislations on vehicle manufacturers, which mandate automakers to increase safety features of their vehicles. This has led to rapid adoption of automotive active bonnet system in vehicles, thereby driving the global automotive active bonnet market.
Various free-trade agreements between Europe-Asia and U.S.-Asia have resulted in economic development of counties such as India, China, Malaysia, and South Korea in Asia Pacific. Furthermore, rapid urbanization in Asia Pacific has led to the development of road infrastructure in order to improve the quality of road transport. This has resulted in a surge in living standard and increase in disposable income of the population, thereby fueling a trend toward owning a vehicle. Therefore, increase in sales of automobiles is driving the global automotive active bonnet market in Asia Pacific.
Looking for Regional Analysis or Competitive Landscape in Automotive Active Bonnet Market, ask for a customized report
Key players operating in global automotive active bonnet market
The global automotive active bonnet market is highly concentrated owing to the presence of top manufacturers. A few key players operating in the global automotive active bonnet market are:
Mercedes-Benz
Tesla, Inc.
Alfa Romeo
Volkswagen AG
General Motors
Mazda Motor Corporation
BMW AG
Daimler AG
Volvo Car Corp.
Jaguar Land Rover Ltd.
BUICK (General Motors)
Kia Motors Corporation
Read Latest Press Release By TMR:
https://www.prnewswire.com/news-releases/continued-ravage-of-covid-19-extends-tremendous-opportunities-in-disinfectant-wipes-market-valuation-projected-to-exceed-us-16-7-bn-by-2030—tmr-301285688.html