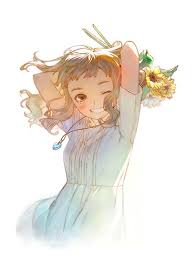 ANIME NEWS: 'Josee, the Tiger and the Fish' to make its anime debut in summer An animated feature film adaptation of "Josee, the Tiger and the Fish" is set for summer release.
The title is based on a coming-of-age romantic novel of the same name by Seiko Tanabe, who won the Akutagawa Prize, one of Japan's most sought-after literary awards.
The novel was also adapted into a live-action feature film in 2003 starring Satoshi Tsumabuki and Chizuru Ikewaki.
The story centers around a girl in a wheelchair nicknamed Josee, a bookworm who is caught up in her own world. But she breaks out of her shell after she meets Tsuneo, a college student who pursues his dreams.
An illustration drawn by Nao Emoto was released to celebrate the animated film and the start of a manga adaptation.
Emoto provided original character designs for the movie while she draws the comic series. The manga artist also served as illustrator for the "O Maidens in Your Savage Season" manga written by anime screenwriter Mari Okada, and "Forget Me Not," which was written by Mag Hsu and adapted into a live-action TV series.
The animated film "Josee, the Tiger and the Fish" is directed by Kotaro Tamura, with Sayaka Kuwamura attached as screenwriter. It is produced by Bones Inc. ANIME NEWS: 'Josee, the Tiger and the Fish' to make its anime debut in summer    
ANIME NEWS: 'Josee, the Tiger and the Fish' to make its anime debut in summer