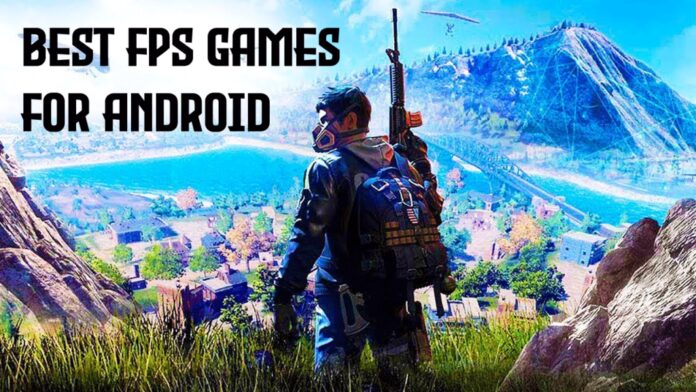 A first-person shooter [FPS] is a genre of action game that is played from the point of view of the protagonist. These games typically map the gamer's movements and also provide a view of what an actual person would see and do in the game. First person shooter primarily refers to the perspective of the game. There are other genres that also use FPS occasionally including racing and boxing games. These games are fun and high on demand too. In this post, we are going to take you through the 15 Best FPS[first person shooting] games for Android.
Go through the list and choose your favorite amongst them.
Here are the Best 15 FPS Games for Android.
1. PUBG
With over 50 million downloads, PUBG is the best FPS game for Android. Loved and played by so many people. This game has become quite the rage now. There's not anyone who does not play this game. 100 players parachute onto a remote 8×8 km island for a winner takes all showdown. Locate and scavenge for weapons, vehicles, and supplies and defeat other players. Be the last man standing.  The powerful unreal engine 4 creates a jaw-dropping visual experience with rich detail and realistic gameplay effects.If your mobile is lads wide playing PUBG then this will be useful
How to run PUBG Mobile smoothly on Android
Main Features
Team up with your friends.
A constantly growing firearms and weapons forray.
  2. Modern Combat 5
As good as it looks this is also an impressive game with sharp controls. This game has evolved with time and just gotten better. Just step onto the battlefield and answer the call with the title raised the bar for a first-person shooter game. You can create a squad from 9 classes and add your friends for team play and also test your skills in dynamic warfare. This game also has a solo play campaign as you shoot your way through one dire situation after another.
Main Features
9 classes with unique skills.
High powered online multiplayer.
Unified game progression.
Intense solo play campaign.
Highly customizable controls.
3. Modern Strike Online
If you are a fan of a good FPS game then this is the one for you. With jaw-dropping graphics and optimization that you can enjoy even on low performing devices. You can create your own rules and call your friends to play with you. You can join tournaments to win prizes and elevate your clan. regular updates and new elements waiting for you in this game.
Main Features
4. Critical OPS
Critical OPS is a no-nonsense action-packed game that you can go nuts on. This is a fast-paced FPS game that will not only test your reflexes and tactical skill you can experience OT operation. Join the competitive combat in the most skill-based portable FPS. The game currently has 3 modes. It is under development right now but you can download and play it anyway.
Main Features
5. Sniper 3D Gun Shooter
Sniper 3D Gun Shooter is the game you need if you want to pass your time in the most fun way possible. Now you can clash with the criminals on different scenarios. With great gameplay, awesome visuals and entertaining missions it is the FPS game that you might want to try out. Defend the victims from kidnappings to bomb attacks.
Main Features
Ultra realistic 3D graphics.
Hundreds of thrilling missions.
Easy and intuitive controls.
6. World War Heroes
World war heroes is a legendary multiplayer shooter game that you will surely love. This game will make you travel to world war 2, where you can use military vehicles to conduct battles. You can log in to get free gifts and daily quests. With regular updates and new elements this game has the best graphics and perfectly matched sounds. Its the game will make time travel fighting the most fun experience you ever had.
Main Features
4 types of battle vehicles.
 7. Guns of Boom
With an enormous community which is always ready to play this colorful shooting game will be liked by newbies and pros alike. With cartoony visuals, five-minute matches and no fuss you can join in the fun. It is more approachable and fun game. Explosive FPS with super easy controls and nonstop PvP action. You can enjoy this game which is constant in adding new features and colorful themed events.
Main Features
Easy and intuitive control.
Regular updates and events.
8. Sniper fury
Sniper fury is the most stunning and creative of all sniper shooting games. It has unbelievable 3D sniper graphics that make this the best game for fps gun fun. It's not an ordinary game. It has guns and effects like no other game. Custom options make your game even better. It is unbelievable with bullet time effects that will blow all other fps gun games away.
Main Features
PvP multiplayer battlefield.
Easy to play, tough to master.
9. Nova Legacy
If you want a 3D sci-fi FPS experience then this critically acclaimed game is for you. This game has a console-like experience that will take you back to your childhood time. You can play this game, test your skills in multiplayer arenas and have so much fun.  You can even delve in the story offline and fight to uncover the truth about these alien invaders in 19 action packed fps levels.
Main Features
immersive offline and online shooter experience.
10. Dead Trigger 2
Fight for your survival in a zombie apocalypse with this nerve wrecking first-person shooter game you can choose an insane arsenal of combat weapons and battle against the walking dead. With massive updates of content and evolving storyline you can have hours of fun in this game.
Main Features
11. Dead effect 2
Pushing the boundaries of mobile gaming to another level, Dead effect 2 is a console quality action sci-fi shooter with RPG elements. You can plunge into the darkness aboard ESS meridian again. You can challenge yourself in its enticing storyline with many upgradeable weapons, gear, and high tech body implants.
Main Features
Console quality graphics and sounds.
Movie quality sound effects.
12. Dead WARFARE
Dead warfare is an addictive offline game for all of the Zombie games fan. Imagine that it is the year 2072 and the world is filled with zombies. Hunt them down and be the survivor. This game is an extreme zombie survival game with loads of features that you will definitely have fun with.
Main Features
Realistic looking 3D shooter.
True Fps perspective and emotion.
13. Zombie frontier 3
Survive this zombie apocalypse as a sniper, just shoot your way out of this war. Turn yourself into a zombie killer and make the streets of the battlefield and also make your way through numerous challenging levels in this shooting game. You can take on the role of a survivor, a zombie killer against the undead targets. Live the experience of elite military soldiers in combat.
Main Features
First person action shooter.
Upgrade ammo and attack weapons.
Choose from more than 30 different guns.
14. Into the dead 2
This is a sequel to the hit zombie action game Into the Dead. You can journey through the zombie apocalypse in a race to save your family. With daily and special event modes you have to do everything to live.Kill, mow down and massacre the dead world where nobody is safe how far will you go to survive it?
Main Features
Evolving story and multiple ending.
Powerful weapons and ammo perks.
Daily and special event modules.
Multiple immersive environments.
15. Cover fire
An addictive shooter and sniper game. Your duty is to lead the battle and become the best shooter and sniper elite. You can lead your brigade of heroes to war against Tetracorp corporation in the best shooting game. You will face limitless ops action in the online tournaments game mode. Prove that you are a survival hero.
Main Features
Face the battlefield with a different perspective.
These were our picks if you have any app suggestions or have something you want us to cover comment it down below. Also, don't forget to share it with your friends.