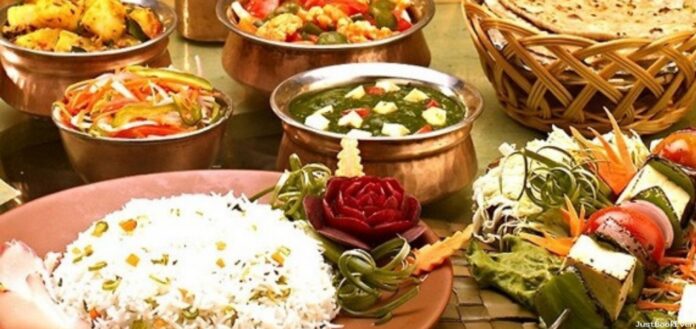 Now that you've started planning your wedding, you must be having a dozen ideas in mind starting from the food, your bridal attire, the wedding venue, the decor and so on. Your wedding day will not just be about you and your partner rather you'll be taking a hundred other guests along with you. The dinner obviously can get pretty expensive and if you want to cut down on the wedding catering charges, here are a few tips and tricks to do that with minor adjustments.
Use disposable cutlery: Instead of traditional glassware and fine china go high-grade with eco-friendly disposables. The cost per unit would be really less and you can hire bussing staff.
Pass on passed appetizers: These are nice to have if you are really trying to save money on catering. You can also decrease your food costs and labor. Set up a section with appetizers for your guests to munch on before dinner.
Cut the cake: Though specifically a western tradition, today many Indian weddings also host the event of cutting cakes. Coming back to if you wish to cut down on the cost, cut a small ceremonial cake for the wedding photography and set up a dessert bar with cookies, brownies, cupcakes to gather appreciations from your guests.
Set up a buffet for the main course: We know you want your wedding day dinner to be different. But coming back to reality, if you have a budget crunch, a buffet is the best way to cut costs without pinching your pocket. And since a buffet is so common that your guests won't be thinking twice about it and would enjoy a good meal.
Try to avoid the traditional meal: Your wedding day meal can be anything. Try to avoid traditional food items since they require more ingredients and more number of labour, therefore, increasing the cost. To reduce that, try to go for fusion food items to save money.
Have fewer guests: This is a no-brainer. Your catering bill will be increased by your guests only. Try to keep your guest list to a minimum and most cost-cutting as much possible.
Minimize staff: One of the quickest ways to reduce your catering bill is by minimizing the staff your catering company provides. Observe closely how many servers, chefs or other staff and ask yourself if you actually need them or there is any way to cut down those costs. Opt for stationary in comparison to tray-passed appetizers.
Provide your own linen: Your caterer will be definitely using high-quality lines and tableware. It would be more economical if you could provide them yourself or atleast rent them from your nearest local store.
Ask your caterer to serve seasonal food: This would be a great way to cut costs and boost flavours is by serving seasonal foods and vegetables that are available around your wedding date. Before you start planning your dishes, head to your local farmer's market (or even the grocery store) to see what's in season.
Skip the late-night dinners: While late-night eats could be fun, they will definitely increase the catering cost. If you think a midnight snack is very much necessary, try to go for something cheap and cheerful instead of letting your caterer arrange it.