Sports facilities are regaining business, as coronavirus restrictions are being eased and stay-at-home orders are being lifted. Stakeholders in the shooting ranges market are benefitting from such trends. On the other hand, companies are targeting military and Special Forces to broaden their revenue streams. For instance, Asterion VR is gaining recognition for its virtual reality simulators that have been designed with the help of experienced doctors and specialized engineers.
Companies in the shooting ranges market are collaborating with video game experts in their studio to innovate in virtual reality (VR) fire ranges. These innovations are helping military forces to train economically and 24/7. The VR fire ranges are facilitating infinite walking in limited spaces.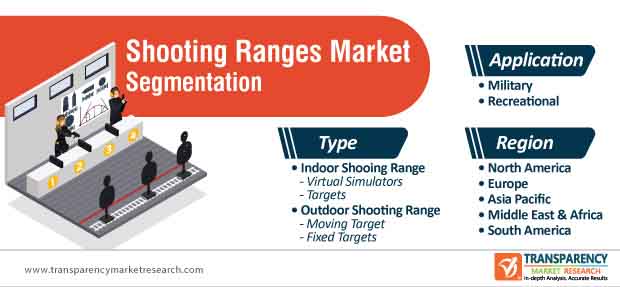 Request a sample to get extensive insights into the Shooting Ranges Market
Retrofitting Older Shooting Ranges – A Significant Opportunity for Shooting Ranges Market
Several defense forces globally are retrofitting older shooting ranges with modern facilities in order to engage soldiers, security officials, and law enforcement forces with real-time fire environment. This factor is projected to be a huge opportunity for the shooting ranges market in the upcoming years. Commercial shooting ranges may also collaborate with sports academies, recreational centers, gun trainers, and professional and private security agencies in order to improve their business. This also is a growth opportunity for the market. Moreover, shooting ranges may also enhance their revenue by improving training facilities, and hosting national and international shooting competitions. Additionally, targeting upcoming mega sports events associated with shooting is also an opportunity for the growth of the market.
Growing Preference for Customized Shooting Ranges: A Key Trend of Market
In urban areas, majority of the shooting ranges are indoors. Indoor ranges offer protection from external weather conditions and can be manually maintained with a controlled environment condition. Outdoor shooting ranges are usually far from populated areas, owing to rising concerns of human safety and overall environmental issues. Increasing preference for advanced technology and customized solutions for counterattack combat and live fire training sessions is likely to be an ongoing trend in the market.
Cost of Installation of Shooting Ranges to Hamper Market Growth
High cost of installation of advanced components or integrated modular solutions in shooting ranges may restrict investors from investing in the market. Generally, shooting ranges all over the globe are located at the outskirts of urban or forests areas; this is to adhere to overall safety practices and standards associated with regulatory bodies to operate the business, which may also impact the growth of the shooting range market. In addition, rising environmental issues are a major concern for governments as well as the defense forces while setting up a shooting range or a live fire training station. This factor is negatively impacting the expansion of the shooting ranges market. In addition, high cost of maintenance, operation, and upgrade of shooting ranges are factors that are likely to hamper market growth. The COVID-19 lockdown situation has led to the closure of several commercial spaces, which also affected the growth of the shooting ranges market.
To understand how our report can bring difference to your business strategy, Ask for a brochure
Shooting Ranges Market: Competition Landscape
Detailed profiles of manufacturers of shooting ranges have been provided in the report to evaluate their financials, key product offerings, recent developments, and strategies
Key players operating in the shooting ranges market include

Action Target Inc.
Laser Shot, Inc.
InVeris Training Solution
Saab Training and Simulation
Cubic Corporation
Read Our Latest Press Release: