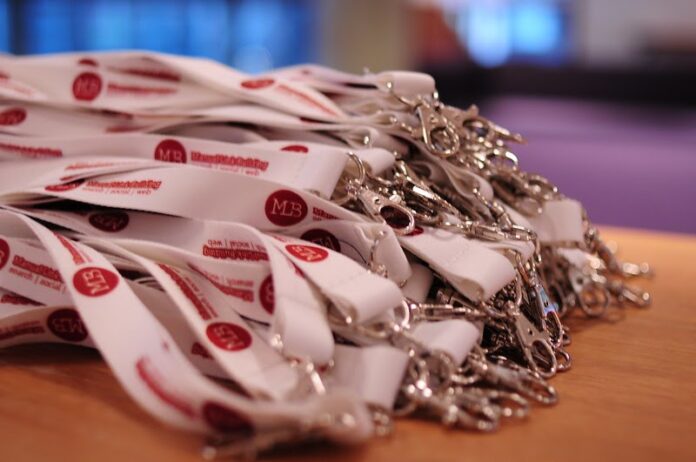 When you heard about the "lanyards," you probably might be thinking about the cord that people put around their neck to hold their ID badge either in the office or school. But did you know that lanyards have been around since the 1500s? Lanyards were first used as a weapon holder by pirates and French soldiers. After all, the word lanyard comes from the French word "lanier," which means thong or strap. Even during WWII, soldiers use lanyards to attach their pistols in their uniforms. 
Nowadays, lanyards can be used in a variety of purposes like key or pen holders, phone holders, and even for emergency tool kits. Lanyards are also common during election periods as political giveaways. Brands also use lanyards as part of their marketing and promotional campaign. 
In the corporate world, lanyards are an essential tool. Aside from being useful in wearing an ID badge, they are also useful in maintaining security in the business premise. By visibly displaying ID badges to both visitors and employees, people can be easily identified, what department they belong, and, more importantly, what level of access they have. 
Lanyards come with many different styles, and it can challenging to know what kind of lanyard is the perfect fit for your organization or company. Below we have listed some helpful tips you might want to consider when buying lanyards.
Custom lanyards
A lot of organizations, especially schools, want their lanyards customized with their organization or school name, mission statement, and, more importantly, their logo. Since customization is widespread and very professional, too, then there's no reason why you should not also do it for your company. It will not only boost all your employee's morale but also help establish your company's branding. Custom lanyards are also useful during corporate events since you can quickly identify people and the department they belong to and the company visitors attending the event, especially the VIPs. 
Material and Design
When choosing lanyards for corporate use, both the design and material are equally important. Lanyard's materials can be made out of polyester, cotton, leather, or nylon. These lanyards strips are usually 0.95 centimeters wide, but you can also have to option to order custom-sized lanyards if you need to. On the other hand, the design also comes in different. Some lanyards are rope-like, others are woven, others are beaded, while others are flat. The quality would also depend on the price. Premium quality lanyards are the most expensive, but you can also find regular lanyards that are durable but less pricy. 
Furthermore, if you are going to provide lanyards for your employees working in an industrial environment, we highly recommend giving them lanyards different from those who are working in the office. Their lanyards must be highly durable and must have a breakaway clasp. The reason is that those types of lanyards can avoid causing neck injuries when accidentally attached to the machinery.
Also, when having a corporate event, special occasions, or brand promotions, we highly recommend using woven, beaded, or rope-like lanyards since these look more professional than just plain lanyards. 
Consider the types of attachments
As we have mentioned earlier, aside from being used as a traditional ID holder, lanyards can be used for different purposes. When choosing lanyards, it is also essential to consider getting the right size to avoid complications. Also, the price of lanyard attachments comes at different rates depending on the clip or hook you choose. However, being the most expensive doesn't mean that it's the best. You should select an attachment-based on the specific usage. And remember, the more it is easier to use, the more it is more useful for your organization.
Purchasing options
While you can save more if you decide to buy just one type of lanyards, you might want to consider buying specific lanyards for every department so they can be easily distinguished to what department they belong to. You also need to consider buying a much cheaper lanyard for corporate events and for marketing promotions since they are more likely to be used in a short period. 
Final thought
Lanyards are highly beneficial to every organization. Always remember these tips when buying one for your company.