Demand for Cosmetics Increases with Introduction of Murumuru Butter-infused Blushes
The lightweight, non-greasy, and restorative murumuru butter is acquiring prominence in skin care and cosmetics products. Companies in the murumuru butter market are investing in capacity additions to manufacture body washes, makeup removers, and moisturizers. As such, murumuru butter is being pervasively used in cosmetics products. For instance, California-based cosmetics company Physicians Formula is increasing its portfolio by raising awareness for their product Murumuru Butter Blush by tying up with small-scale retailers.
The murumuru butter market is estimated to reach ~US$ 3 Bn by the end of 2030. This is evident since companies are increasing their R&D activities to infuse essential fatty acids and pro-vitamins in cosmetics products.
Request a sample to get extensive insights into the Murumuru Butter Market
Manufacturers Capitalize on Protein-rich Hair Care Products to Replace Silicones
Apart from cosmetics, companies in the murumuru butter market are tapping into value-grab opportunities in hair care products. For instance, Re'equil— a cosmeceutical solutions company, has a rich portfolio of hair care products involving the Murumuru Damage Repair Hair Conditioner— a protein-rich conditioner that meets niche requirements of women with curly hair.
To understand how our report can bring difference to your business strategy, Ask for a brochure
Most women are challenged with damaged hair due to over usage of heat-inducing styling equipment and deficiency of essential vitamins. Hence, companies in the murumuru butter market are increasing their focus in hair care products such as shampoos and conditioners in order to help users hydrate and nourish damaged hair. They are increasing efforts to source murumuru butter from the Amazon rainforest. As such, murumuru butter is replacing traditional silicones in hair care products to help users restore healthy hair.
Murumuru Butter versus Shea Butter: Which is better?
Anti-inflammatory and anti-bacterial properties of murumuru butter are being highly publicized among consumers. Hence, companies in the murumuru butter market are increasing their efforts to produce GMO (Genetically Modified Organism)-free products. Companies such as Lush— a cosmetics retailer headquartered in Poole, U.K., is developing 100% vegetarian and handmade facial oils from murumuru butter. However, murumuru butter-induced products are generally more expensive than other soft butter-induced products such as shea butter. Hence, companies are strengthening their supply chains to make products more affordable.
On the other hand, shea butter has been a long-time leading ingredient in skin care products. However, pure shea butter is associated with skin breakouts and acne in many consumers. Hence, consumers are weighing their options in terms of budget and product features to purchase products.
Strict Government Guidelines Pertaining to COVID-19 Force Companies to Suspend Online Orders
Companies in the murumuru butter market are aggressively building their online presence, as consumers are highly active on social media and digital platforms. However, due to the COVID-19 (coronavirus) pandemic, brand owners have temporarily shut down their websites. They are waiting for business activities to resume after the lockdown period and are increasing efforts to abide by the government guidelines.
Due to the COVID-19 outbreak, stakeholders are unable to visit their offices and warehouses to process online orders. Hence, brand owners are waiting in anticipation to run their business activities until there is free movement in the market landscape.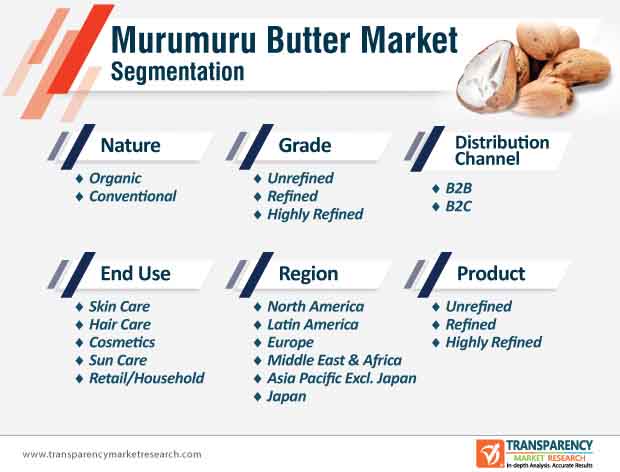 Stuck in a neck-to-neck competition with other brands? Request a custom report on Murumuru Butter Market 
Analysts' Viewpoint
Stringent government guidelines associated with COVID-19 has compelled brand owners in the murumuru butter market to temporarily suspend their online orders. Companies are focusing on vegan, GMO-free, and cruelty-free body washes to increase their product offerings. In order to further commit toward environment wellness, brand owners are increasing their production capacities using 100% recycled bottles.
Murumuru butter's soft and rich consistency is highly preferred in the production of body butters. However, sourcing murumuru butter is relatively challenging as compared to other soft butters, and the availability of alternatives such as mango, shea, and tucuma butter pose as a hurdle for manufacturers. Hence, companies in the murumuru butter market should strengthen their supply chains to increase the availability of budget-friendly products.
Murumuru Butter Market: Overview
The global murumuru butter market's value stood at ~US$ 1 Bn in 2020, finds Transparency Market Research (TMR) in a recent study. According to the report, the market is expected to reach ~US$ 3 Bn by 2030, at a CAGR of ~7.9%.
The increasing demand for cosmetics and personal care products is driving the global murumuru market. Murumuru butter offers various skin and hair benefits due to its chemical properties. With increasing focus on benefits of murumuru butter and its derivative products, their applications are increasing in the cosmetics and personal care industry. Murumuru butter-based products offer various benefits. For instance, they support hair growth and are enriched with anti-inflammatory properties that improve skin health.
Increasing applications of murumuru butter as an ingredient in cosmetics and personal care products ensure their various health benefits. Apart from this, murumuru butter also offers anti-ageing properties that prevent the signs of ageing.
Murumuru Butter: Market Frontrunners
Organic and conventional murumuru butter are the key segments by nature; among which conventional murumuru butter is expected to be the leading segment in 2020, accounting for the approximately 80.1% of the market in terms of value.
The refined murumuru butter segment is dominant in the global murumuru butter market in terms of grade. It is followed by unrefined and highly refined. These segments accounted for 33.4%, and 15.5% of the market, respectively, based on the value.
Skin care, hair care, cosmetics, sun care, and retail/household are key segments in the global murumuru butter market based on end use. Among these segments, skin care and cosmetics products hold approximately  ~80% market share in terms of market value.
North America leads the global market followed by Europe that is 60% and ~18% of total market share, whereas Latin America, Asia Pacific, Oceania, Middle East & Africa accounts for the remaining market share
More Trending Reports by Transparency Market Research – https://www.prnewswire.com/news-releases/tmr-projects-strong-growth-for-gummy-vitamins-market-rising-elderly-population-promises-a-robust-6-0-cagr-during-2019-2029–301017047.html
Murumuru Butter Market: Trends
Natural Ingredients Gaining Traction

Hectic lifestyles across the globe and increasing awareness regarding health and wellness, especially the adverse effect of artificial ingredients are influencing consumer demand in favor of products that are naturally-sourced. Furthermore, the demand is likely to increase on account of the increasing focus on better transparency about ingredients used in manufacturing. There is thus a scramble to provide natural ingredients, exclusively for high growth consumer product segments like cosmetics and personal care, among others. Murumuru butter is a naturally derived plant-based product, and also is a sustainable fat source that is achieving good market traction in cosmetics and personal care products, attributable to the increasing trend for natural products as well as ingredients worldwide.
Apart from this, the murumuru butter market is witnessing numerous innovations as a result of the introduction of novel products by key manufacturers in response to rising consumer demand for good quality premium cosmetics. Key manufacturers of color cosmetics are focusing on their product portfolio expansion by acquiring local companies and suppliers of cosmetic ingredients and advertising their product brands through constant marketing promotions and celebrity commendations.
Murumuru Butter Market: Strategies
Key players in the global murumuru butter market are introducing various murumuru derivative products via online retailing and are also offering noticeable concessions on their offerings to improve their online trade
Product Innovation and Launches: Key players are offering products that increase the ability of the skin to resist the effects of dryness or restore moisture

In terms of value, in January 2018, Unilever has launched a brand "Love Beauty and Planet", which is also an eco-friendly beauty brand. Under this brand, the company products are divided into six categories such as murumuru butter and rose, argan oil and lavender, tea tree oil and vetiver, coconut oil and ylang ylang, shea butter and sandalwood, and coconut water and mimosa flower.
Request for covid19 Impact Analysis – https://www.transparencymarketresearch.com/sample/sample.php?flag=covid19&rep_id=77050
Target Region for Market
In terms of value, in 2020, North America is expected to hold the leading market share and is anticipated to remain the strong among other regions. Europe is retaining at second position in the global market over the forecast period.
Murumuru Butter Market: Players
Some of the key manufacturers operating in the murumuru butter market, as profiled in the study, are,

Beraca Ingredientes Naturais SA
Hallstar
Jarchem Industries Inc.
Henry Lamotte Oils GmbH
O&3
Citróleo Groups