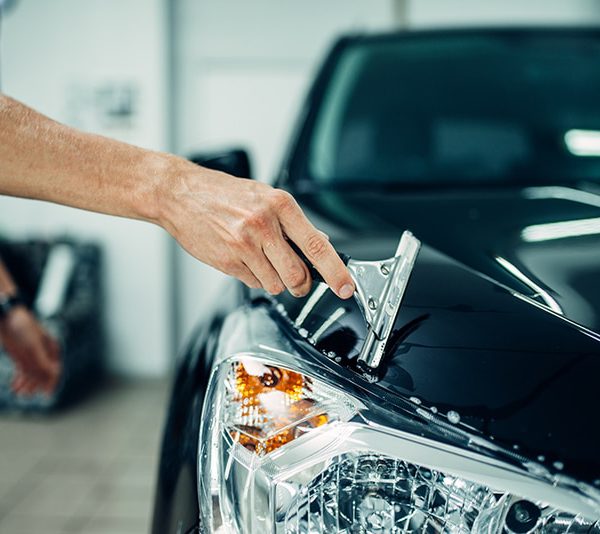 Wrapping a vehicle with vinyl has long been used to protect the paint job, change the color, add graphics, advertise (in the case of a racecar), or promote businesses. In recent years, these colorful wraps have become increasingly popular, though there are some misconceptions about when your vehicle's appearance should be changed with a wrap, or when it should be changed using paint. Ideally, a wrap can be applied to a vehicle that has new or high-quality paint. It must have a strong clear coat, be free of deep scratches, dents, rust, corrosion, or any other rough surface. By protecting your vehicle against road hazards and elements such as chemicals, rocks, and debris, a vehicle wrap can bring more life to an otherwise good paint job.
Wrapping your vehicle
Wrapping a vehicle can improve its aesthetic appeal, but they cannot mask imperfections in its paint, especially if those imperfections have affected the texture of the paint. In addition to paint flaws, vinyl wraps can be compromised by peeling off from a vehicle. The quality of a vehicle wrap depends on a good paint job, as well as a competent and well-known technician to install it correctly, since a flawless installation requires a high degree of skill.
It is important to know what the wrap is made of before you decide whether to get a partial or full wrap, because the materials will impact the look and durability, and how they affect your vehicle's paint. All types of businesses can choose to have beautiful vehicle graphic wraps installed on their vehicles using high quality 3M graphics. To keep your vehicle graphics at their best, it is recommended that you use cleaning products specially formulated for automobiles.
Customizing the appearance of your car
You can customize the appearance of your car with vinyl wraps by changing its color or other features. In contrast to repainting the vehicle, a wrap can be removed in the event you wish to change the design or return the car to its original state, such as when racing team sponsors change or a business makes changes to its logo, phone number, or other aspects of its brand messaging.
Besides being applied to cars and trucks, vinyl wraps can also be used on partial surfaces, such as fences and walls. A variety of vehicles can be wrapped, including motorcycles, ATVs, panel trucks, RVs, trailers, food trucks, buses, tractors, boats, and even 18 wheelers.
Selecting the best car graphics company
Whether you want to wrap a single company car or cover an entire fleet, when you're designing an advertising campaign for reaching a wider audience you should choose a reputed graphics company to help you convey your brand message more effectively and more economically than traditional methods. By placing your brand message in front of thousands of drivers and passengers every time your vehicle is on the road, vinyl vehicle wraps help your brand message become highly visible.