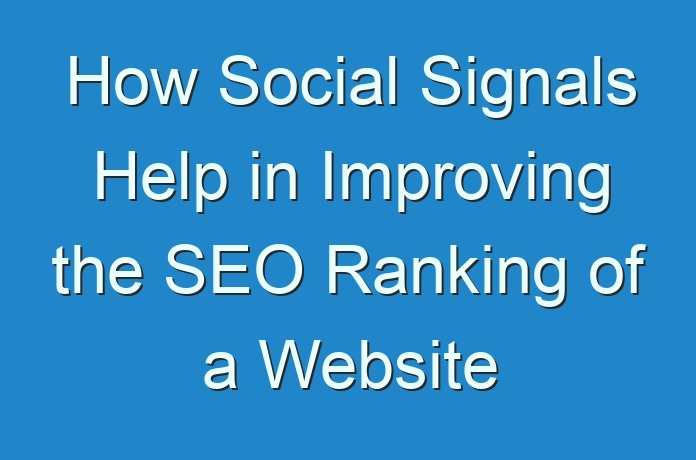 Social media has evolved from instant messaging platforms to mediums for promoting products and services. It invariably affects your online store's SEO; hence you'll need to create a social media strategy that will help boost your brand through campaigns and sales. If you need help with search engine optimization, Dallas SEO company is proficient in this aspect. Have you posted content or products and gain likes, shares, and comments? That's social signals. Guess you're acquainted with it. In this article, we'll be considering how social signals improve SEO ranking and how to optimize social media sites for SEO. Let's get started!
What are Social Signals?
Social signals refer to the engagement metrics such as likes, shares, and comments received on content uploaded on social media platforms. They're perceived to improve social media visibility on search engines. In social media marketing, social signals are essential metrics for businesses. They are considered to be ranking signals and likened to citations and backlinks.
Are Social Signals a Ranking Factor?
While social signals may not directly influence SEO, they indirectly affect the ranking factor of web pages. Google crawls content for SEO. The more shares and likes you receive on your content, the more visible your content will be, leading to high rankings on search results. The Google-Twitter partnership indicates how vital social media is to search rankings. Google now features tweets in search results, fuelling the growth of the social media platform. Significant social signals are Facebook shares, tweets and retweets, mentions on community sites such as Reddit, Tumblr, and StumbleUpon.
How Social Signals Improve SEO
Below are ways by which your social media activities can influence your SEO.
Social media boost online visibility
You're more likely to come across the social profiles of companies or organizations first before their corporate websites on search results. Google ranks social profiles among the first results.
Gain website traffic through social media platforms
With over 4.6 billion active internet users around the world, there's a high probability of driving traffic to your website, which in turn will boost your search rankings on Google.
Improves engagement and social media presence
Social media amplifies SEO strategies by promoting your content. While you may have great content, you'll need to share it on social media platforms for visibility. If you want to reach a wider audience, you'll need to share content often on social networks. This increases engagement and bounce rate.
Promotes link-building
High-quality content gets more shares and visibility than a regular one. This creates room for your content to be linked to other sites. You can get inbound links by joining and participating in online forums like Quora, Reddit, etc. You can post content about your products and brand on these platforms, linking it to your website or social profile. This will help your website gain traction, increase your brand awareness, and boost rankings on Google.
Increase brand awareness
Many internet users make purchasing decisions and get to know about brands through social media. Studies have shown that many people shop for products based on Facebook posts, online and YouTube reviews. Social media boosts branding and SEO. It attracts prospective customers and creates brand awareness.
How to Increase Your Social Signals
Since content is king, you need to take measurable steps to create relevant, informative, and high-quality content that will boost engagement, drive traffic and increase website ranking. Below are strategies that will help your social signals:
Post regular content: Create quality content and updates on social media. Let your brand rank top of the news feed.
Optimize your content for social shares: Optimized content with good, quality images and videos and social sharing buttons are easy to promote.
Create compelling and interesting content:  Write attention-grabbing content that boosts conversion and sales. Create hashtags and ask for shares. This strategy will possibly improve your SEO.
Track your social engagement metrics: Monitor your shares, retweets, likes, and keywords for search engine optimization. Let your Austin SEO expert help you out.
From all we've learned about social signals, it's logical to say social interactions boost SEO. It's believed that companies with a solid social presence will have higher rankings on search results. Are you looking to increase your social visibility? There are lots of affordable SEO services for small business that can help you achieve your goals. Choose the right one today.