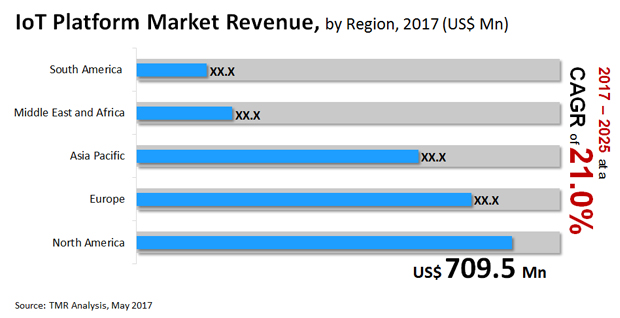 Significant rise in the electronic devices such as laptops, mobiles, wearable fitness devices, automotive telematics units, industrial control systems, and drone units that has increased the demand for advanced networks. Preference for IoT platform market has increased largely, as they are cross-device compatible, scalable, and offer ready-to-use features to fasten the development of applications for connected devices. Moreover, with rising demand for data storage over cloud has further increased the demand for IoT platform.
Recently, Transparency Market Research (TMR) conducted a research on the global IoT platform market to analysis the growth prospects in this market. Based on the company's report, the global IoT platform market is projected to rise at staggering CAGR of 21.0% over the period of eight years from 2017 to 2025. In terms of revenue, the market is expected to generate approximately US$ 10 billion by the end of 2025. The incremental opportunity in the market is about US$ 8.3 billion, which is giving huge platform for the players and stakeholders to grow and prosper.
Leading players providing IoT platform solution are focusing on research and development activities mainly to improve the quality of the product and provide services at a lower cost. They are also engaged in expanding product line by using advanced technology and innovation. These strategies are expected to help them in establishing a strong foothold in the market. Reaching out to newer geographies and expansion through mergers and acquisition are few other major areas players in heavily investing in. For example, SAP recently extended its business presence in Vienna, Austria. This came after the companies like ZS Associates Inc. and Owens-Illinois Inc. chosen SAP's HANA Cloud Platform for meeting their IT requirements and digitally transforming for cloud services.
In the TMR's report, prominent players in the global IoT platform market are considered that included Oracle Corporation, Salesforce.com, Inc., IBM Corporation, Microsoft Corporation, General Electric, Cisco Systems, Inc., SAP SE, and Google Inc.
Rising Preference for Wearable Technology to Pave Way for IoT Platform
Recently, the trend for wearable devices has grown significantly and large number of people are in favor of using these devices. Rising use of wearable devices has made IoT an integral part of our lives. Sensing technology used in wearable devices helps in establishing a strong connection with big data and cloud. Wearable technology also helps in establishing a strong connection by linking to a third party and then providing tailored and customized services. Apple, Nike, Google, Samsung, Motorola, and Johnson & Johnson are the prime players that introduced wearable devices for example, Samsung smart watch and Apple iWatch.
Relating with the current trend, demand for smart devices along with associated technologies is expected to grow substantially in the near future. ultra-low power processors, low-cost, accuracy, low-power wireless connectivity, and ultra-low power mobile sensors are some of the major features of these devices. Moreover, multiple advantages of wearable devices such as facility of health tracker, safety, fitness, and interactions further expanded its demand. Pertaining to all these factors the demand in the IoT platform market is projected to rise considerably.
Looking for exclusive market insights from business experts? Request a Custom Report 
Newer Growth Prospects Seen in Asia Pacific Due to Rapid Digitalization
Countries in Asia Pacific region are witnessing drastic change due to rapid adoption of digitalization in almost all the sectors. High economic development and increasing investment in smart cities are major factors that lead the demand in the Asia Pacific IoT platform market. China, Japan, and Australia are the major countries where digitalization is rising significantly, therefore, these countries are considered key region for the growth in the IoT platform market in the coming years.
The study presented here is based on a report by Transparency Market Research (TMR) titled "IoT Platform Market (Deployment – On-premise and Cloud; Application – Inventory Management, Human Capital Management, Customer Service, Enterprise Performance Management, Supply Chain Management, Infrastructure Management, Security, and Asset Performance Management; Industry Verticals – Retail, Healthcare, BFSI, Oil and Gas, Transportation and Logistics, Manufacturing, Government and Defense, Energy, Education, and Hospitality) – Global Industry Analysis, Size, Share, Growth, Trends and Forecast 2017 – 2025".