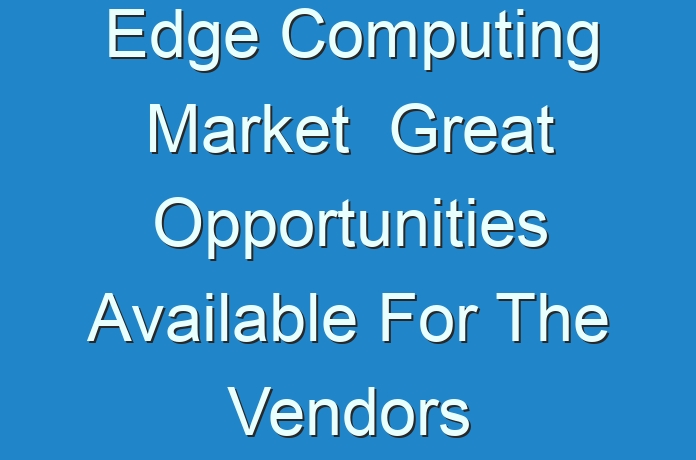 Global Edge Computing Market: Snapshot
The global edge computing market is anticipated to rise steadily in the upcoming years on the back of challenges arising from the excessive use of traditional cloud computing architecture. One of the key factors driving the global edge computing market is the proliferation of Internet of Things (IoT). Edge computing eliminates the need for vast amount of data generated by IoT to be sent to data centers or clouds.
Edge computing architecture is ideally suited for a number of situations. This includes poor connectivity of IoT devices, wherein IoT devices lack seamless connectivity to a central cloud. Further, factors such as high latency, low spectral efficiency, and non-adaptive machine type of communication are some serious challenges of cloud computing architecture that are leading to a shift to edge computing framework.
Purchase our Premium Research Report At:https://www.transparencymarketresearch.com/checkout.php?rep_id=33254&ltype=S
Edge computing offers economic benefits for enterprises. This is because scrutinizing and processing data close to the edge of the network helps organizations analyze crucial data in real-time. Edge computing is useful for organizations across a number of industry verticals such as manufacturing, healthcare, finance, and telecommunications among others.
A report by Transparency Market Research (TMR), forecasts the global edge computing market will be worth US$8,024.5 mn in 2017 and further become worth US$13,313.7 mn by the end of 2022 at a CAGR of 10.7% therein.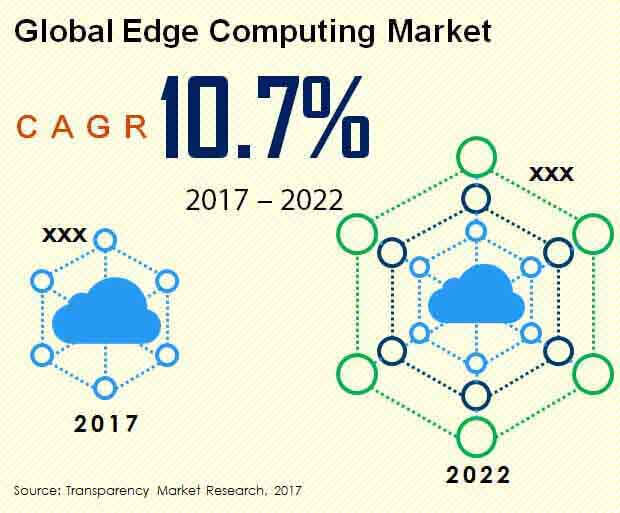 Hardware Beats Key Component Segments with Leading Year-on-Year Growth
The report studies the global edge computing market based on a few parameters, viz. component, end-user, application, and region. Depending upon component, for instance, it can be divided into hardware, software, and services. Of them, the hardware segment accounts for the leading market share, and is likely to account for a revenue contribution of US$4,359.6 mn to the overall market in 2017. This will amount the hardware segment to constitute 54.3% of the market in 2017. Going ahead, the hardware segment is estimated to rise at a CAGR of 10% for the forecast period between 2017 and 2022, for the segment to be worth US$7,027.6 mn by the end of 2022. The hardware segment is likely to display a year-on-year growth of US$533.6 mn over the forecast period, which is larger than any other component segment.
Get More Press Releases by TMR: https://www.prnewswire.com/news-releases/beyond-customary-energy-and-cost-saving-advantages-both-hard-and-soft-benefits-extend-immense-growth-opportunities-in-building-analytics-market-growth-trajectory-projected-at-stellar-15-cagr-from-2021–2031—tmr-301288910.html
Based on end-user, the edge computing market has been segregated into education, healthcare, automotive, surveillance, and others. In terms of application, the report divides the edge computing market into IoT, data monitoring, analytics, and others.
North America to Continue to Remain Leader
Geographically, the key segments of the global edge computing market are North America, Latin America, Europe, Japan, Asia Pacific except Japan, and the Middle East and Africa. In 2017, North America emerged as the most lucrative regional market; the region is expected to serve a demand to attract a revenue of US$3,496.2 mn in 2017. Expanding at a CAGR of 10.3% over the forecast period, the North America edge computing market is likely to be worth US$5,696.6 mn by the end of 2022.
However, the country of Japan is likely to surpass all in terms of growth rate. The region is likely to register an impressive 16.4% CAGR over 2017-2022 to reach US$1,763.5 mn by 2022.
Europe is another key market for edge computing that is anticipated to clock 10.4% CAGR over the forecast period of 2017-2022, for the region to be worth US$3,319.4 mn by 2022 end.
Amongst all, the Middle East and Africa is expected to expand at a relatively slow CAGR of 5.3% over the forecast period to be valued at US$367.3 mn by 2022 end.
Leading companies in the global edge computing market profiled in the report include Microsoft Corporation, IBM Corporation, Cisco Systems Inc., Google Inc., Hewlett Packard Enterprise Company, Intel Corp, Schneider Electric SE, Nokia Corporation, Huawei Technologies Co. Ltd., and Aricent Inc.
Edge Computing Opens a New Edge in Cloud Computing for 5G and Other Disruptive Technologies
Advances in communication technologies have been one of the lynchpins of economic growth. Modern communications networks are the key underpinning of the myriad processes that are being digitalized every day across industries. Proponents of edge computing are pitching this as the new strategy for adding value to prospective customers in the edge computing market. Edge computing might be the new candidate in helping cloud service providers overcome the limitations of cloud computing. The concrete gains are simplifying the maintenance, reducing the cost of cooling of data center units, and reduce latency. Broadly, this is done by positioning servers, processors, data storage arrays, and other networking elements in such way that they are moved closer to the edge where these are required. Thus, edge computing architecture is highly sought-after option for several enterprise networks.
The proliferation of smart devices, particularly sensors, is one of the key motivating factors in spurring potential investments in the edge computing market. Interest in deploying 5G has gained momentum in several countries around the globe. This might prove to be new use case for adopting edge computing architecture. The hyperscale nature of cloud data centers is one of the key propositions. The need for realizing new value propositions in cloud computing is expanding the horizon for players in the edge computing market. The demand for sustainable cloud computing model in the onslaughts of exponential rise in data will keep the momentum high.
On the other hand, in the current scenario, where Covid-19 has made serious repercussions to all aspects of economy, there is a need for developing digital systems. Examples are the needs for developing new digital healthcare models, smarter manufacturing systems, and seamless network connectivity platforms. While, the pandemic has caused macroeconomic upheavals across the entire globe, it has also come with some potentially incredible opportunity. The need for new communication networking systems that will help economics limp back to growth in the backdrop of such pandemics is an exciting proposition for players in the edge computing market.
TMR has a track record to provide ace market research solutions that has earned us the trust of our clients for their business intelligence needs. Serving 13 industry verticals with a database of over 1,000 reports and 1 million + data points, our expanse to provide market research solutions is exceptional. We deep dive for a thorough understanding of the subject, gather precise information, and then analyze it to present solutions that are par excellence.
Contact us:
Transparency Market Research
State Tower,
90 State Street, Suite 700,
Albany NY – 12207,
United States
Tel: +1-518-618-1030 Email: [email protected]
Website: https://www.transparencymarketresearch.com
https://todaysmarkettrends.wordpress.com