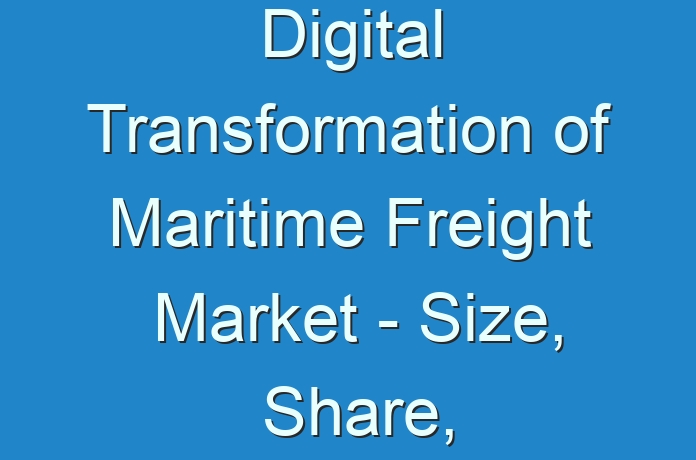 Digital Transformation of Maritime Freight Market: Automation Remains the Top-Driving Engine
A mounting number of companies across various industrial verticals are modifying their business models with increased importance of consumer satisfaction, and the maritime freight landscape is no exception. With the market for maritime freight witnessing incremental growth in the service industry, it is undergoing digital transformation to improve transparency and offer a quicker response to customers' needs in this landscape.
One of the recent developments in the technologically-advancing maritime freight landscape reflects a rise in the digital transformation of booking software. Digitization of sea freight booking through automation and cloud-based technologies is showing unprecedented growth in the digital transformation of maritime freight market.
Planning to lay down future strategy? Perfect your plan with our report brochure here https://www.transparencymarketresearch.com/sample/sample.php?flag=B&rep_id=72459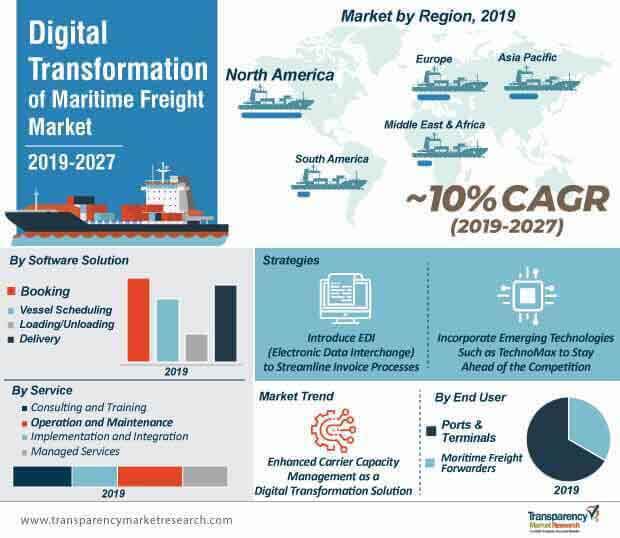 Cloud-based software solutions are poised to hold ~60% of the digital transformation of maritime freight market share by 2027; cloud-based solutions and cloud management tools are gaining popularity with their cost-saving benefits for stakeholders in the maritime supply space, thus triggering growth in the digital transformation of maritime freight.
For instance, in March 2018, Hapag Lloyd launched its cloud-based rate management platform – Cargo Sphere – which gives its customers fully-automated access to all its rates. The company further declared that, the platform can also deliver sales-related benefits, including more frequent selection of optimal booking and faster quoting to customers, ultimately to improve customer satisfaction by sharing accurate Hapag-Lloyd rates in real-time with its partners.
Automated contract management at the booking stage can enhance accuracy and significantly reduce business overheads by decreasing processing time. By obliterating email-driven spreadsheets and PDFs, such a robust innovation will move the digital transformation of maritime freight industry beyond incremental gains.
Such innovations come at an opportune time when automated software solutions at the booking stage are set to grow at a CAGR of ~10% during the forecast period. Maximum digital transformational spending is likely to be recorded at the booking stage, giving market players in the maritime freight industry key insights on directing business development strategies towards these business operations.
Making the vision of a digitally-transformed maritime freight market a reality will need many different tacks. Shipping giants tantalized by the prospects of digitization are channelizing all their energies by developing a hi-tech online marketplace, which allows shipping customers to make reservations via a digital portal. This would help stakeholders in gaining more transparency in an industry that is opaque and fraught with volatility. Effecting a reconciliation between invoices and bookings can be error-prone, onerous, and time-consuming. Settling of freight invoices via EDI (Electronic Data Interchange) can be much more efficient at just the push of a button, and can enable stakeholders in streamlining their invoice processes, thus improving their bottom line.
Want to know the obstructions to your company's growth in future? Request a PDF sample here https://www.transparencymarketresearch.com/sample/sample.php?flag=S&rep_id=72459
Trends Shaping the Digital Transformation of Maritime Freight Landscape
The technological juggernaut has already accelerated to a new level, holding the potential to completely transform the maritime freight sector. An emerging technology, dubbed TechnoMax, is all set to change the face of the shipping sector. A TechnoMax LNG carrier can be made of advanced materials such as graphene, to make a ship lighter, while sensors made of the same material will detect the ship's emissions and pollution levels. In addition, Big Data Analytics on board will allow it to smartly monitor cargo information, navigation, and communication, and the right mix of diesel and biofuels will reduce the cost of oil, thus, driving the growth of the digital transformation of maritime freight sector.
Enhanced carrier capacity management and robust operational efficiencies should be a major emphasis point for maritime freight sectors that are looking at digital transformation. Increasing cargo intake has always been the foremost strategy of key market players in the maritime freight industry. Furthermore, the IMO (International Maritime Organization) has taken proactive steps; in 2018, it issued guidelines that all maritime freight containers will have to reduce their emissions by at least 50% by the year 2050. This will propel stakeholders to increase their investments in technologies that allow them to track and analyze cargo vessels for operational viability and environmental sustainability.
Related Reports Press-Release –
https://www.prnewswire.com/news-releases/automotive-ac-compressor-market-to-continue-to-gain-from-indispensable-hvac-systems-for-range-of-automobiles-market-projected-to-be-worth-us-32-39-bn-by-2026—tmr-301262966.html
US Office Contact
90 State Street, Suite 700
Albany, NY 12207
Tel: +1-518-618-1030
USA – Canada Toll Free: 866-552-3453
Email: [email protected]
Website: https://www.transparencymarketresearch.com