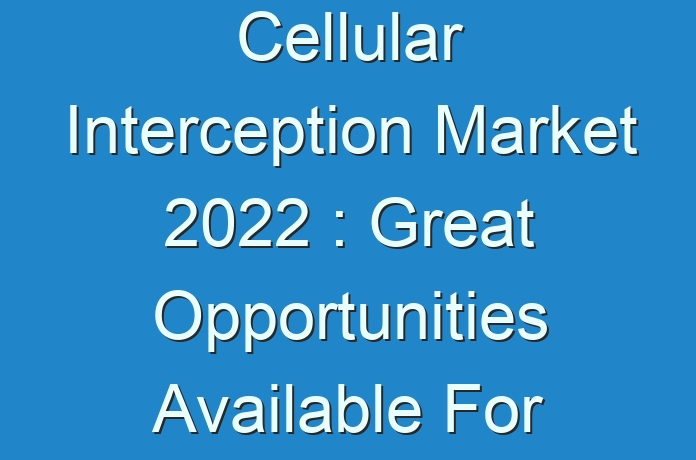 Cellular interception technology refers to the interception, tracking, recording, and storage of cellular communications such as phone calls, internet usage, SMSs, etc. Cellular interception technology is extensively adopted by law enforcement agencies and authorities such as governments, military & defense, and federal & local law enforcement agencies (LEAs). The technology is primarily used to gather intelligence regarding criminal or terrorist activities. Cellular interception devices are capable of active, semi-active, and passive interception of cellular information such as voice, metadata, and data transmissions. Vendors of such devices also offer advanced capabilities such as capturing forward and reverse cellular channels during cell phone calls. These devices can capture control channel frequencies and allow monitoring of cellular communications from cellular site stations and base stations. The device allows users to perform a seamless Man-in-the-middle attack over cellular communications, where the interception device is capable of snooping in and recording telecommunication between a cellular tower and a cellular mobile device. Cellular interception devices may be designed to be portable units that can fit within vehicles and airborne devices. Law enforcement agencies and government authorities primarily adopt CDMA and GSM cellular interception technologies. Applications of cellular interception technologies are tactical operations, and monitoring of command & control centers, borders, and airports.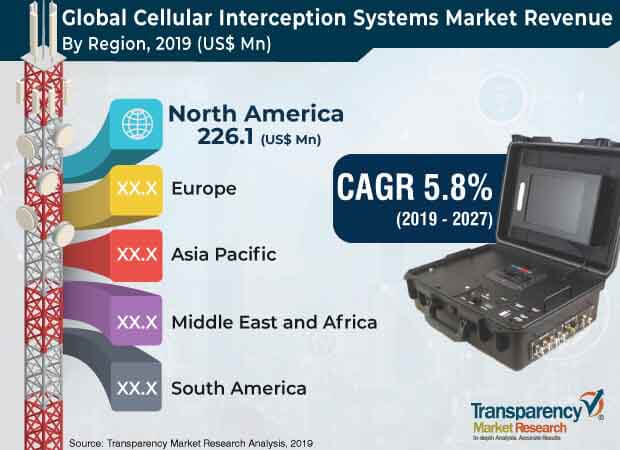 Request for a sample:
https://www.transparencymarketresearch.com/sample/sample.php?flag=S&rep_id=47469
Rising rates of crime in cities, ranging from small time offenders to organized crime rings, have caused local law and federal enforcement agencies to invest in technologies that can help prevent, track, and neutralize such unlawful offenders. The cellular interception market is driven by the rising efforts of law enforcement agencies and government organizations in their bid to combat crime. Strategic interception systems are integrated and deployed by telecommunication providers in their networks in order to comply legally with lawful interception requests of telecommunications between users on the network. Strategic interception systems do not have an operational limit, and can detect the exact location of any phone in an intercepted conversation. The development and use of new communication channels, network and frequencies would require integration with cellular interception systems. This would lead to cellular interception systems becoming more complex and expensive to develop and implement. Deployment of newer devices to intercept such communication channels and network systems across the world is anticipated to hamper the cellular interception market in the long term.
The cellular interception market is segmented based on component, technology, system type, application, and geography. In terms of component, the market has been classified into hardware, and software. By technology, the market is categorized into code-division multiple access (CDMA), global system for mobile communications (GSM), active GSM system, passive GSM system, semi-active GSM system, 3G/4G/Long-Term Evolution (LTE), satellite cellular communication system, hybrid system, and others (Universal Mobile Telecommunications System (UMTS). By system type, the cellular interception market is segmented into strategic interception system (ULIN – Unlimited Interceptor), and tactical interception system (IBIS — in-between Interception System).  The market classified by application is divided into public sector and private sector. Based on geography, the market is segmented into Asia Pacific, Europe, North America, South America, and Middle East & Africa. Among these regions, North America covers a large share of the cellular interception market. This is primarily due to increasing military and law enforcement spending by the government. Middle East & Africa are anticipated to offer lucrative opportunities to the cellular interception market mainly due to governments combating increasing security threats and criminal activities.
Ask for brochure:
https://www.transparencymarketresearch.com/sample/sample.php?flag=B&rep_id=47469
The global cellular interception market comprises a large number of international and domestic companies providing a wide range of cellular interception hardware and software. Some of the key vendors offering cellular interception components include Ability, Inc., ADS Group, Axiom Technologies Pvt. Ltd., Endoacustica Europe s.r.l., HSS Development, Netline Communications Technologies (NCT) Ltd., NovoQuad, Inc., PICSIX, Shoghi Communications Ltd., Stratign, and TheSpyPhone.
Read Our Latest Press Release:
https://www.prnewswire.com/news-releases/primary-virtue-to-reduce-carbon-footprint-unlike-conventional-labels-underscores-growth-in-eco-friendly-labels-market-growth-projected-at-notable-7-9-cagr-from-2021–2029—tmr-301307886.html